What is it?
A Space is a section within your digital workplace with its own content, navigation, groups, and access permissions. Spaces allow people to collaborate on a specific topic within their department. Use spaces to foster almost any type of team collaboration, including: departmental teams, project teams, committees, or social clubs. You can also use a space to contain related content, like news, HR policies, operations, out of office calendars, and more.
Space administrators have access to a Space Administration Panel that allows them to add and remove members, as well as create and control new groups within their space.
Administrators can customize their space by applying a specific layout, and look and feel, including custom headers and footers. Once the design and access permissions are set, spaces can also be duplicated and reused as templates to create consistency across the workplace.
Read the article, Page or Space?, to learn more about the differences between the two, and when to use them.
Use Cases
Team, social or special initiative area
Use spaces to create areas in your workplace for teams that need their own area to collaborate, communicate, and host content. spaces are also great for people who need a customized area and can manage members and access without involvement from a site administrator.
Grouped or related content
If you have a corporate hub that groups information such as events, news, policies and procedures together, you can use a space with open access, to allow everyone to view the information, while the HR team owns the actual space.
Knowledge base
Use spaces to create a knowledge base containing various channels filled with information. For instance, you can use a wiki to hold documents, and create a request center in the form of a forum. Organizing all this content within a space will allow someone to easily control the content. This may be the same person within a department or another leader.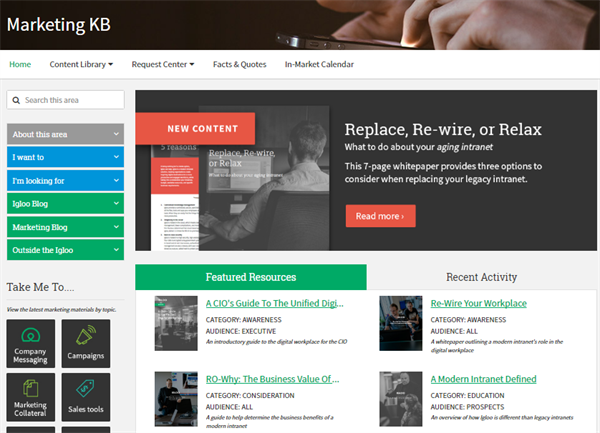 Features and functionality
Our platform is simple and intuitive but that doesn't mean its capabilities are limited. There are a number of ways you can configure our platform to do exactly what you want. Below is a list of all additional features found within this particular feature or function.
Template - Every space you create within your workplace can be used as a template. So, when you create a new space, you have the option of applying one of our default templates or a template from another space in your workplace.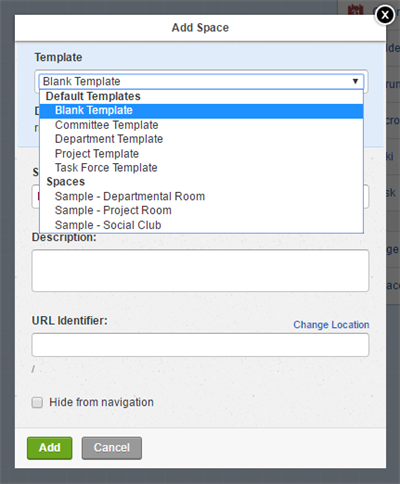 Title - Please give the space a name that describes the content that will be housed within. It must be a unique name. If there is another space with the same name in your site, a number will be automatically added to the title ex. SPACENAME(2)
Description - This field will display a brief description for you to learn more about the purpose of the space.
URL identifier - This feature is required and allows you to choose the path name for your space. Try to keep this name clear and concise as it will appear in the page URL address.
Change location - This feature allows you to choose a specific place for your space. By default, the space will be created in the last visited area of your site.
Hide from navigation - When this feature is selected, no one will be able to see this space. However, you can still access the space through the Site Manager or by its URL.
How to create a Space
Once you have made the decision to use a space for the particular area of the workplace you are creating, follow these instructions to add a space to your workplace framework.
Step 1: Open the Control Panel
Select the gear-like icon in the top right corner of your screen. This opens your Control Panel.
Step 2: Select, Site Manager
Select, Site Manager from the list of options presented in the Control Panel.

Step 3: Open the menu provided on the Add button
Select the arrow provided on the right-hand side of the Add button to bring up a menu of options.

Step 4: Select, Space
From the Other section of the list provided, select Space.

Step 5: Complete the fields and choose from the options presented
Once you select a channel, complete the required fields and selected any desired options.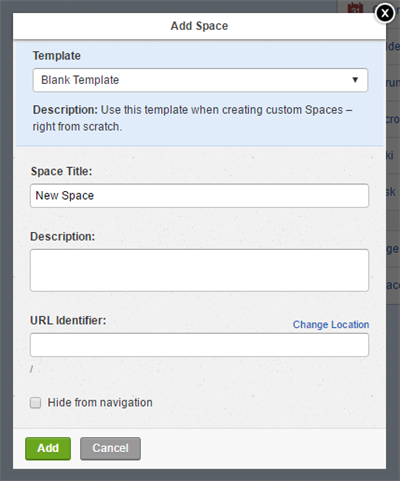 Step 6: Select, Add
Once you complete the fields and select any preferred options, select the Add button at the bottom of the screen.
Step 7: Confirm the new space has been added
A new space will appear in the last visited area of your Site Manager, or the area you have specified in the Change Location area of your space setup.
Frequently Asked Questions
When do I choose a page over a space?
This is a very common question. Essentially it comes down to membership and access.
The highest level of access granted to a group on a page is Full access. Full access members can view, reply, contribute, manage, and control content, but they do not have the same level of access as an administrator (i.e., they cannot access the Control Panel). Pages do not have a Control Panel so access must be maintained by the workplace administrator.
Refer to the article, Page or Space for further explanation.
How do I access a Space?
There are three ways to access a space:
- Through the primary navigation menu
- By typing the URL in the web browser's address bar
- By opening the Control Panel and selecting, Site Manager
Why am I unable to create a space within a space?
Spaces can have pages and channels nested within them, but you cannot nest a space within a space. If a space is being created using a template that contains multiple channels, the exact order the channels appear in that template will not be preserved.
If I've used a template, can I modify the new space?
Yes. If you are not sure where to start when creating a space, Igloo offers five pre-made space solution templates. If one is close to what you need, use it and modify as required, by adding channels, pages, and widgets to accomplish your workflow.
Best practices / Tips and tricks
Hide spaces that are a work in progress
When in the process of adding a space to an active workplace, hide the space from the navigation. Hiding the page prevents people from visiting it while you construct it. When the space is ready to be shared, you can unhide the page by de-selecting Hide from navigation.
Frequently asked questions
Why is there a number after my space name that I can't get rid of?
All spaces in your site must have unique names so they can be distinguished in widgets, etc. If you create a space with the same name as another space in your workplace, or one still in the trash can, the system will automatically add a number to ensure the name is unique.
2,244

views

0

previews

11

versions
Labels:
Avg. Rating:

Updated By:

Jesse Langstaff

August 9, 2019

Posted By:

Matthew Seabrook

September 4, 2017

Versions:

v.11
---