What is it?
The Site Map widget provides a way for people to navigate and explore your digital workplace. The workplace administrator can select the root location of the Site Map widget and it will display all navigable areas of your workplace from there. For example, a Site Map widget could be used to display only the pages and Channels that are part of that space. Alternatively, it could show the entire layout of your workplace.

Selecting any of the links in the Site Map widget will bring a person to that page in your workplace. People can only view items that they have the proper access for.
Features and functionality
Our platform is simple and intuitive but that doesn't mean its capabilities are limited. There are a number of ways you can configure our platform to do exactly what you want. Below is a list of all additional features found within this particular feature or function.
The Site Map widget provides additional functionality compared to the Navigation widget as it allows people to drill down into nested pages that are part of your workplace.
Options
Title - This name is displayed above the content of the widget. It can be left blank or contain up to 140 characters.
Description - This text is displayed below the title and above the site map.
Start point - Your workplace, a page, or space can serve as the base location that is displayed in the Site Map widget. Only locations that are below this start point will be displayed, including any additional nested locations.
Show hidden items - Selecting this option will cause any hidden pages in your workplace to be visible in the Site Map widget. This does not change the visibility of the page elsewhere.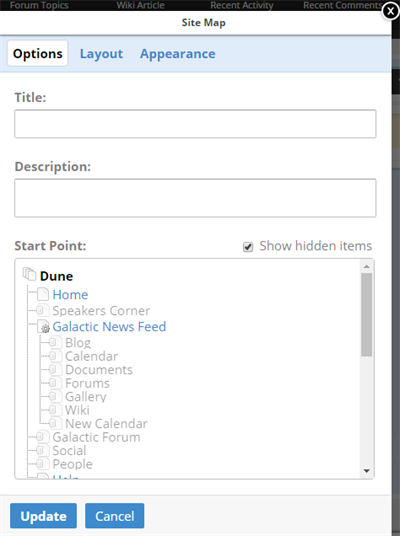 Layout
There are currently no Layout options for the Site Map widget
Appearance
The Appearance tab options have their own dedicated support document. For more information, please read our article on Appearance.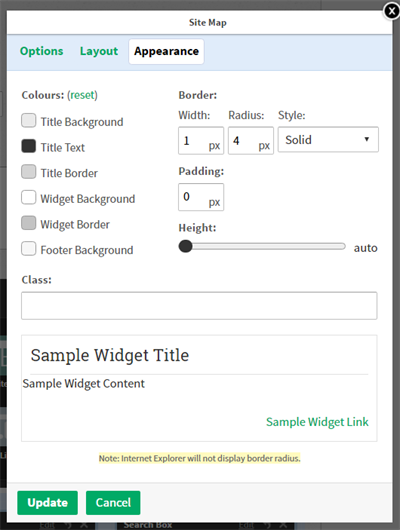 General functionality
At the bottom of the Site Map widget edit tool, there are options to Update and Cancel. Update will save and apply all changes that you have made, whether they have been made in the Options, Layout and/or Appearance tab, and then close the Site Map widget edit tool. Cancel will close the Site Map widget edit tool without saving or applying any changes that were made.

The contents of the Site Map widget can be refreshed by selecting the curved arrow found on its title bar, while in Page Edit mode.

To remove a Site Map widget from your page, you can select "x" on the far right side of its title bar while in Page Edit mode. The Site Map widget will be removed from the page and all settings that were associated with it will be lost.

How to add a Site Map Widget
Refer to the Widgets article for instructions on how to add the Site Map Widget to a page.
875

views

0

previews

10

versions
Labels:
Avg. Rating:

Updated By:

Jesse Langstaff

May 6, 2019

Posted By:

Matthew Seabrook

September 4, 2017

Versions:

v.10
---