What is it?
URL Shortcuts allow you to make the URLs within your digital workplace more presentable and easier to remember. These shortcuts can only be created by the workplace's Administrator. These shortcuts can point to any page, space, channel, or file in your workplace.
Use Cases
Make shorter URLs
As a workplace grows and becomes more complex, you may find that parts of your workplace start to have long, complicated URLs. This can become an issue if you want to frequently link to that page and need to type out its URL. Use URL Shortcuts to make a complicated URL shorter and therefore easier to read.
Features and functionality
Below is a list of all additional features found in URL Shortcuts.
The URL Shortcuts feature allows you to add, edit, and remove shortcuts to content within your workplace.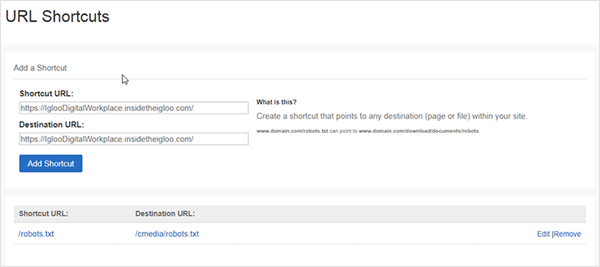 How to create a URL Shortcut
Follow the steps below to create a URL Shortcut for a location in your workplace.
Step 1: Open the Control Panel
To open the Control Panel, select the gear-like icon in the top right corner of your workplace landing page
Step 2: Select, URL Shortcuts
Select URL Shortcuts, listed under the Membership category in the Control Panel.

Step 3: Edit the URLs
Specify the Shortcut URL you wish to use, and select the Destination URL it maps to.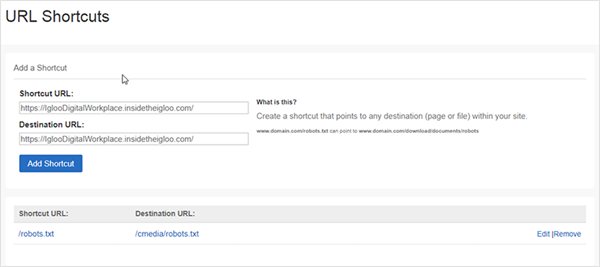 Step 4: Select, Add Shortcut
Select Add Shortcut to save the shortcut you have created.

688

views

8

versions

1

follower
Labels:
Avg. Rating:

Updated By:

Jesse Langstaff

May 6, 2019

Posted By:

Matthew Seabrook

September 4, 2017

Versions:

v.8
---