What is it?
The Site Manager is an interactive site map where you can rearrange your site's navigation with simple drag and drop controls. It allows pages, spaces, and channels to be created, renamed, hidden, re-ordered and deleted. The tool visually displays the workplace's 'site map' (see above) in a tree structure with all page associations and hierarchy. Rearrange your root level pages to organize your site's navigation.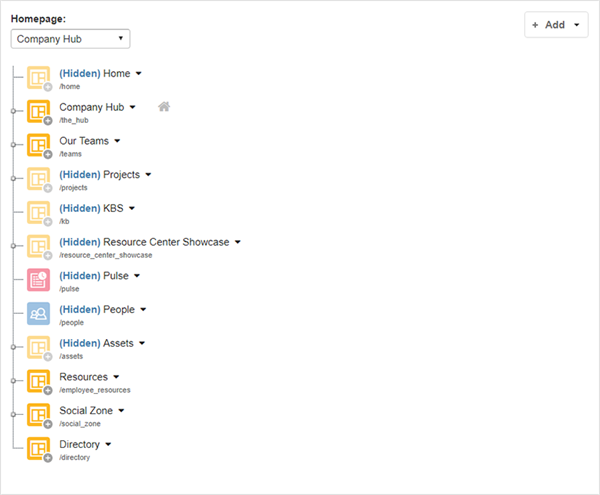 Features and Functionality
Below is a list of all additional features found within this particular feature or function. Select each item below to learn more about the available options you can to your site:


Quick Edit - Quick edit allows you to modify the title and url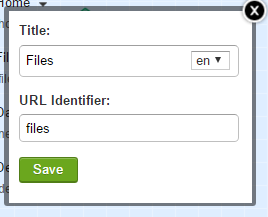 Navigation - Choose to show items in your navigation or hide your content from view.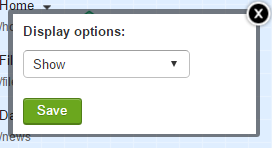 Show - displays the item as normal in your navigation bars. This is the default setting
Hide - removes the item from navigation bars. Note that this has no impact on Access to the item.
Show with drop-downs - This option is available on pages and spaces. It creates a dropdown of visible items nested under that page or space when someone hovers over the item in the navigation bar.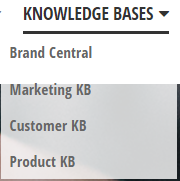 Full Edit - Use "Full Edit" from the page dropdown menus to modify the layout and content of the page.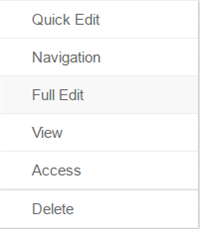 View - Would you like to see what your page, space, or channel look like? Selecting, View allows you to have a look at things from the front and can help you to determine what changes need to be made – if any.
Access - Refer to the article, Access for more detail.
Settings - Refer to the article, Settings - Action Button for more detail.
Delete- Want to remove something from your workplace? Here's where you do it. You will get a confirmation message before it is deleted.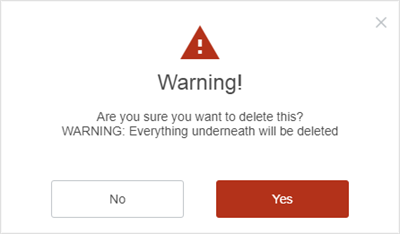 How to use the Site Manager
The Site Manager is the tool used to create the structure of your workplace. It's where pages, spaces, and channels for content are created. To access the Site Manager and start building your workplace, check out the instructions that follow.
Step 1: Access the Site Manager
Select Site Manager under Presentation inside the Control Panel.

Step 2: Create channels (Blog, Calendar, Folder, Forums Microblog, Wiki, and Task), pages, and spaces.
Press the Add + button in the upper right-hand corner of the Site Manager, and choose the type of channel, page, or space you would like to create. The Site Manager provides a hierarchical overview of your digital workplace so you can set the navigation paths as you build your workplace simultaneously.

Note: By default your digital workplace comes with a built-in homepage, but you may change the homepage to any channel, page, or space you create by changing the homepage: drop-down menu.
Step 3: Remove content (if applicable)
Select the black downward facing arrow icon to the right of the channel, page, or space you wish to remove and select Delete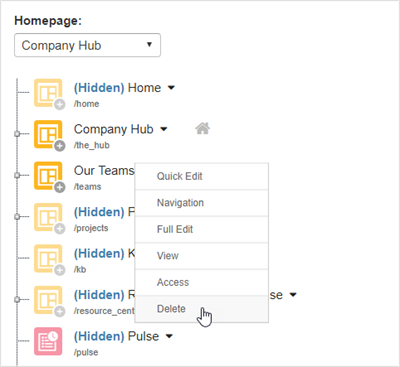 Step 4: Hide content from primary navigation (if applicable)
You may want to hide what you are working on until it is done and ready to be shared. To hide your work, select the back downward facing arrow icon to the right of the channel, page, or space and then, select Navigation. Place a checkmark next to Hide from navigation.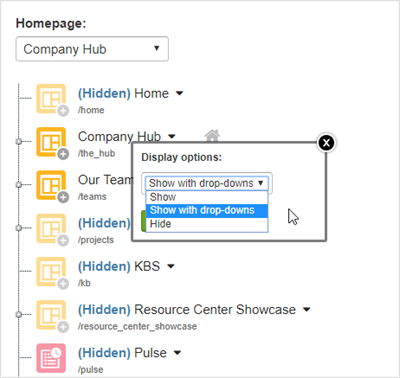 Step 5: Configure the homepage
The homepage dropdown determines what users will visit when they navigate to the workplace URL. It can be set to any page at the root level of the workplace.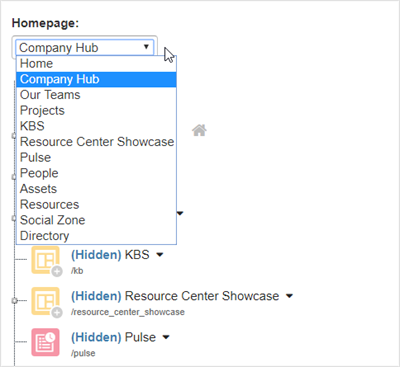 Frequently Asked Questions
I selected Hide from navigation but people are still able to access the area. How is this possible?
Hidden pages won't display in your navigation, but users are still able to navigate directly to the page if they know the URL.
When do changes made in the Site Manager take effect?
Changes made in the Site Manager are immediate. Moving items or creating them happens instantaneously, with no draft mode or save changes option.
1,306

views

0

previews

8

versions
Labels:
Avg. Rating:

Updated By:

Jesse Langstaff

May 6, 2019

Posted By:

Matthew Seabrook

September 4, 2017

Versions:

v.8
---