What is it?
Anonymous commenting allows non-members of your digital workplace to add comments or replies on Blog, Calendar, Folder, and Wiki channels. Since they are not a member of your workplace, channels that you wish to have anonymous commenting also need to be publicly accessible. When an anonymous individual makes a comment they will be prompted to enter an email address. If the email is associated with an Igloo account, they will be prompted to enter their password to sign in. If the email is not recognized, the anonymous individual will be asked for a display name.
In order to better control anonymous comments, it is possible to require them to be approved by the workplace's administrator, article creator, those with Full access, and/or channel Moderator. Information regarding anonymous comments can also be found in the Control Panel under Public Activity. From here you can view the name and email address of anonymous commenters, and also send them an invitation to join your workplace.
Use Cases
Anonymous commenting
Anonymous commenting is best used when your Igloo functions as an extranet. It provides anonymous individuals the ability to contribute and take part in your workplace's conversations. By requiring the approval of anonymous comments, you can ensure that the comments stay relevant to the content that they are attached to.
Features and functionality
Our platform is simple and intuitive but that doesn't mean its capabilities are limited. There are a number of ways that you can manipulate our platform to get it to do exactly what you want it to do. Below is a list of all additional features found within this particular feature or function.
Anonymous comment approval and moderation
If anonymous comments require approval, the person who submits the comment will be told that their comment is waiting to be approved.
Comments can only be approved by Administrators, Moderators and those who have Full access to the channel's Manage option. To control moderation options for a channel, navigate to the channel's Settings and locate the section called Moderation. Select Yes to turn on moderation. This will require all comments be moderated. You can set channel Moderators by selecting the green + and entering the workplace members name who you want to be a Moderator. You can also select the option to make an author of a content item a Moderator of their content.
When a Moderator views a comment that is waiting for approval they will have the options Approve, Reject, or Add Notes along the left-hand side of the comment.
How to enable anonymous commenting
Prior to enabling anonymous commenting on a channel, public access for anonymous commenting must also be configured for the entire workplace.
Follow the steps below to enable anonymous commenting on a channel.
Step 1: Open the Control Panel
On the right side of your userbar select the icon that looks like a gear to access your workplace's Control Panel.
Step 2: Select Public/Private access
Under the Settings header select Public/Private Access.
Step 3: Enable Open Public Registration
Under Public Registration & Search Access you can make your workplace Open by selecting the corresponding radio button option. Select Save to have your selection take effect.

Step 4: Select Public Activity from the Control Panel
Under the Overview header, select the option Public Activity.
Step 5: Enable option for anonymous commenting
By enabling anonymous commenting on your site you will now have the option available to configure anonymous commenting for your channels.

Step 6: Open your channel's Action menu
Navigate to the channel which you would like to enable anonymous commenting for. In the top right corner of that channel, there is an icon that looks like a downward pointing triangle. Select it.
Step 7: Select Settings
Once the Action menu appears, select Settings from the list of options. Below is an example of the action menu from a Blog Channel, the menu you see may differ somewhat depending on which channel you are using.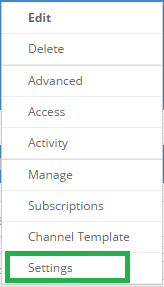 Step 8: Enable anonymous commenting on a channel
In the section anonymous commenting, select Yes if you would like to enable this feature for the current channel. You will also have the option to require anonymous comments to be approved before they are displayed on your channel. For Forums, the section of the settings menu that deals with anonymous commenting is called anonymous replies.

Step 9: Enable anonymous access permissions on the channel
The channel needs to be accessible by non-members of the workplace. To set the access rules for your channel check out our article on Access Rules.
508

views

9

versions

1

follower
Labels:
Avg. Rating:

Updated By:

Jesse Langstaff

May 6, 2019

Posted By:

Matthew Seabrook

September 4, 2017

Versions:

v.9
---