What is it?
Use Blog Channels to create and store Blog Articles about news, updates, and announcements. You can navigate directly to a Blog Channel to view a feed of its Articles, or display this feed on a Page or Space using a Blog Articles Widget.
Blog Channels often contain long-form rich-text Articles. For shorter communications, consider using Microblogs.
Use Cases
Corporate news Channel
Create a Blog Channel to house all of your most important corporate news. To make it easier for people to get the updates, add a Blog Articles Widget to your digital workplace's homepage so you can share company news and updates with the digital workplace's entire member base in a convenient place no one can miss. Also, consider creating a Subscription so people will get emails about new posts.
Departmental updates
Provide a Blog Channel for each department to post regular updates. Each Blog would live within its department space. With Access set to Read for All Members, other employees can access this area to view updates. Blog Channels can also be selected to be displayed through a Blog Articles Widget, providing an aggregated department feed.
Employee recognition
Blogs offer a great way to recognize employees for the work they've done. Name a Blog Channel something like Employee Spotlight and use it to provide employee recognition. Create a Channel Template with information you need to gather about each person so there is consistency in Articles. Don't forget to include a photo.
Record Keeping
Blog Channels keep Articles in chronological order and provide a summary of Articles created in past months for quick access. This makes Blogs ideal for storing regular reports and meeting minutes. This can be made even easier by taking advantage of Adding Content via Email. Using this feature, you can include a Blog Channel on the recipient list of regular reports and it will be automatically added to the blog feed, storing the content in the cloud for future reference.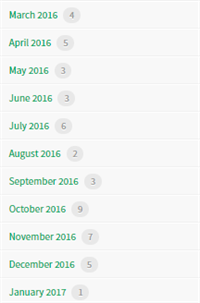 Features and functionality
Below is a list of features available on a Blog channel:
Title: Give each Channel a unique name that describes the Blog Articles that will be housed within. This is the name that will appear on the Channel, in navigation and identify it in Widgets.
Description: Create a brief description for people to learn more about the purpose of your Blog Channel.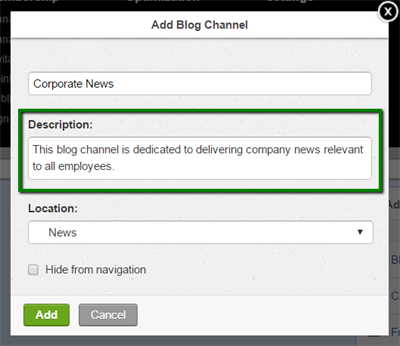 The following options have their own dedicated support documents. Please follow the links for more information:
RSS feeds
Blogs that have Anonymous Access enabled also produce an RSS feed. There is a small RSS icon in the bottom right corner of the Channel with the link to the feed.

How to create a Blog Channel
If you have decided to include a Blog in your digital workplace you'll need to create Blog Channels to house all your Blog Articles. You can add as many Blog Channels as you need to keep your Articles organized and targeted at specific audiences.
Follow the steps below to add a Blog Channel to your digital workplace.
Step 1: Open the Control Panel
In the top right corner of your screen, there is a gear-like icon. Select it.
Step 2: Select Site Manager
Select, Site Manager from the list of options under the Control Panel.

Step 3: Open the menu provided on the Add button
Select the arrow on the right side of the Add button to bring up a list of options.

Step 4: Select Blog located in the Channel menu
From the list provided, select Blog.

Step 5: Complete the fields and choose from the options presented
When you select a Channel, you will be provided with a screen of fields you need to complete and options to choose from. Complete the required fields and select the options that suit your needs.
For a description of these fields and options go to the Channel article.
Step 6: Select, Add
Once you complete the fields and select any preferred options, select the Add button at the bottom of the screen.

Step 7: Confirm the new Blog Channel has been added
A new Blog Channel will appear in your Site Manager. Confirm that it is in the correct location in your site architecture. You can drag and drop it to a new location if it is not.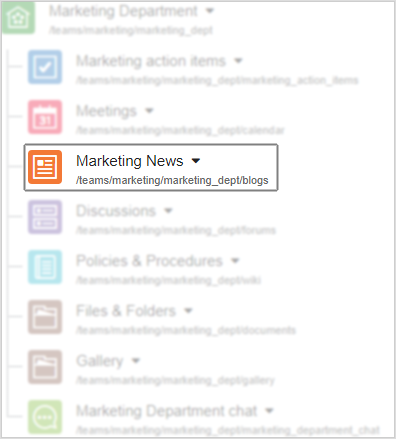 Frequently Asked Questions
How do I target a Blog Channel to a specific group? Especially when the Blog Channels feed into one Widget.
Blog channels respect Access Rules. If you restrict Access on a Channel to a specific group of people, only that group will that Channel's contents in connected Widgets.
Is it possible to ghost-write on behalf of another person?
Yes, you can. Save any Article as a Draft instead of publishing it. You can add other Authors to that Draft and when you publish the article, you can choose any of the authors to publish as. That person will receive a Notification that you have published on their behalf.
Best practices / Tips and tricks
Use a unique and relevant name
Name your Blog Channel according to the information it will contain. For example, a Blog Channel dedicated to social events may be "Social Updates" or a Channel dedicated to Human Resources may be "HR News." This makes it easier to choose the correct Channel to post new Articles in, and when selecting Channels to include in a Widget.
Assign a Channel Color
Assign a Channel Color to each of your Blog Channels so you can easily distinguish Channels if they are aggregated into a single Widget. See the Article, Channel Colors.
Add a Moderator on open Channels
Add Moderation to your Blog Channel if you want someone to review Articles before they are posted. This is particularly valuable on Blogs that will be seen by the whole company or ones that large numbers of people can post to.
Place the Channel under a Page or Space that best relates
When creating Blog Channels, have them live where they are most suited. For example, a marketing Blog Channel should live in the "Marketing Department". A second example would be two Blog Channels, one sharing internal and another sharing external news, live under a "News and Events" area together.
2,054

views

0

previews

11

versions
Labels:
Avg. Rating:

Updated By:

Jesse Langstaff

May 6, 2019

Posted By:

Matthew Seabrook

September 4, 2017

Versions:

v.11
---