What is it?
Pages are places in your digital workplace that allow you to collect and display information from other areas. Pages are not restricted to a single application and are completely customizable using Widgets. Widgets on a page can provide feeds from Channels, links, navigation aids, and display information forum outside sources.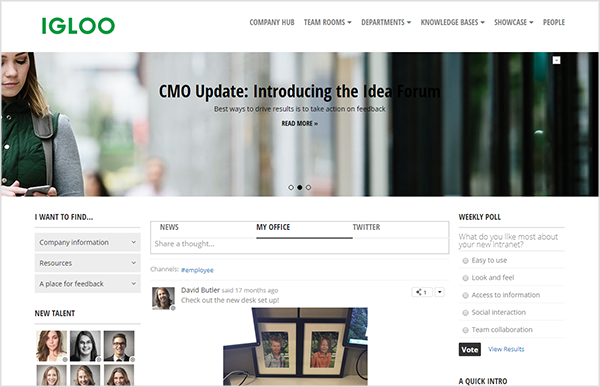 Pages also serve an architectural purpose, allowing you to organize areas in your digital workplace into a nested, multi-leveled structure in your Site Manager.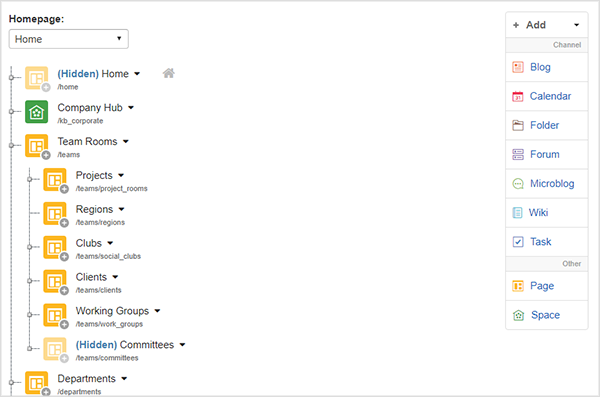 Use Cases
Home Page
Your digital workplace home page is a Page. You can take advantage of the wide variety of Widgets to help direct people to important locations, present corporate news, and display links to other resources.
Consolidate multiple Wiki Channels
Use a Page when you need an area of your digital workplace to house a collection of related Channels. This keeps your navigation clean and provides a place to display a summary of the activity of all those Channels using Widgets on the Page.
Common uses for this is a corporate news center with multiple blogs, and a calendar collector with out of office and vacations calendars.
Features and functionality
Page creation
When creating a new page, the following options are available:
Template: If you have Page Templates set within your digital workplace, you can select the Template from the provided dropdown list and it will be applied to your new Page. You can set any Page to be available for use as a Template. To do this, edit the Page and select "Set as template" then enter a title and description which will appear in the page creation dialogue.
Description: This field will display a brief description of the selected Template.
Title: This is the name of the Page that will appear in navigation and Widgets.
URL identifier: This feature is required, and allows you to choose the path name for your Page. Try to keep this name clear and concise as it will appear in the Page URL address.
Hide from navigation: When this feature is selected the Page will not appear in the navigation bar or some Widgets. However, you can still access it through the Site Manager, search, or by its URL.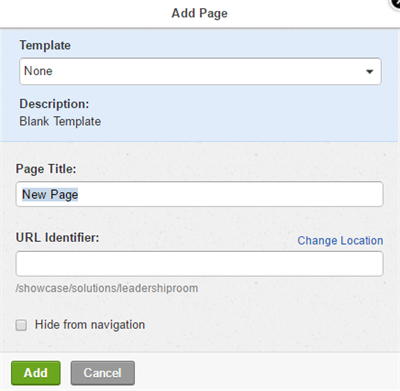 Change location: This feature allows you to choose a specific place for your Page. By default, the Page will be created in the same location as the last page that was created.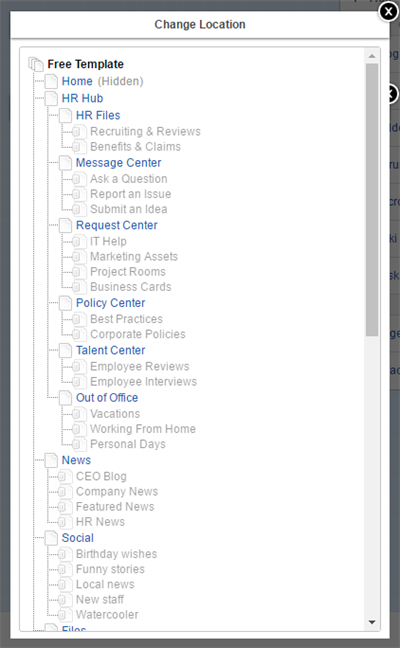 In page editor
When editing a Page the following additional features and options are available:

Set as a template: If you really like how you organized the Widgets on your Page, you can create a Template and use it for other Pages you build by selecting the Set as template feature. Once selected, two additional fields will appear asking for a name and description of the Template.
Show sub navigation: By default, Pages do not have sub-navigation, but it is available for root-level pages. It can be turned on by selecting the Show sub navigation feature. This will make child items of the Page, such as other Pages and Channels, appear in a navigation bar below the primary navigation. This option only appears for Pages at the root level of a digital workplace.

Add Widgets: You can add any number of Widgets to a Page. See the Widgets article for more detail.
Version History: Previous configurations of your Page are saved. You view past versions of your Page and revert to them if needed.
Publish Page: Publishing a page makes it the live version visible on the site.
Save As Draft: You can save a page you are working on as a draft version. This allows you to come back to it later, or other people to see and modify it before it goes live.
Preview: You can select the Preview button to see what your current layout will look like if published.
How to create a Page
Follow these instructions to add the Page to your digital workplace framework.
1. Add a Page in the Site Manager
Click the gear-like icon in the top right corner of your screen.
2. Select the Site Manager
After you click the Control Panel icon, your Control Panel will appear. Select, Site Manager from the list of options.

3. Open the menu provided on the Add button
Click the Add button on the right-hand side of the Site Manager to bring up a menu of options.

4. Select Page from the provided menu
From the Other section of the list provided, select Page.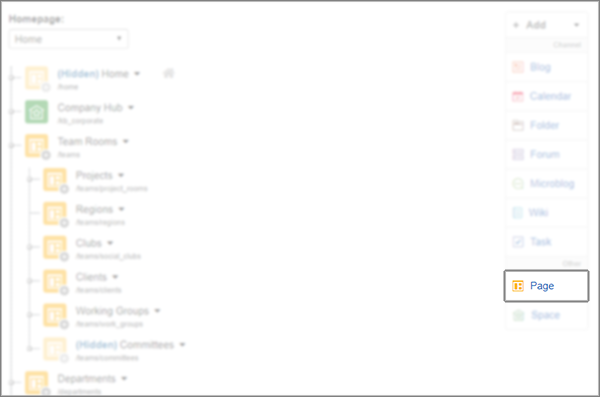 5. Complete the fields and choose from the options presented
Fill out the fields presented and select the appropriate options as described in the page creation features and functions above.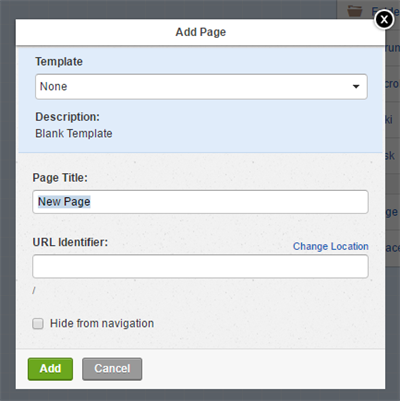 6. Select Add
Once you complete the fields and select any preferred options, select the Add button at the bottom of the screen.

7. Configure Access Rules
Confirm that your new Page has the appropriate Access Rules in place so the correct groups of people can visit it.
8. Add widgets
Add, organize, and configure the Widgets on your page so it displays the information you need. See the article on Widgets for more detail.
Frequently Asked Questions
When do I choose a Page over a Space?
This is a very common question. Essentially it comes down to membership and access. A full article on the subject is available Here: Page or Space
How do I access a Page?
There are three ways to access a Page:
Through the navigation menu or widgets
Via Search
By typing the URL in the web browser's address bar
By opening the Control Panel and selecting Site Manager
Best practices / Tips and tricks
Hide your work in progress
When you are in the process of adding a Page to an active digital workplace, hide the Page from the navigation bar. You can hide a Page from navigation by editing the Page. To do so, open the Page and select Edit from the menu under the Action Button, and then select Show sub-navigation. Hiding the Page prevents people from visiting it while you construct it. When the Page is ready to be shared, you can unhide the Page by de-selecting Hide from navigation.
2,356

views

0

previews

9

versions
Labels:
Avg. Rating:

Updated By:

Jesse Langstaff

May 6, 2019

Posted By:

Matthew Seabrook

September 4, 2017

Versions:

v.9
---