What is it?
This widget acts as a window into one or more Forum channels, displaying collections of forum topics from around your digital workplace. The different display options allow you to show various elements of the channels you select. Use the widget to show people the contents of different forum entries, and use the filter bar to sort entries on the fly.

Features and functionality
The Forum Topics widget has a variety of options for controlling what information it displays and in what format.
Options
Title: This puts a title on the widget itself.
Add hyperlink to title: Select this option if you wish the title of the widget to link to a specific location. This is most often a forum channel being displayed by the widget.
Description: This should describe the contents included inside the widget.
Source(s): Choose the Forum channel(s) you want the widget to display. Content from multiple Forum channels can be compiled and displayed by one widget.
Include: Choose what topics you would like to be displayed in the widget (All / Unresolved / Resolved) and (Topics, Questions, Ideas, Problems, Discussions).
Sort options: You can choose how the content in your widget will be sorted. Post Date will order the topics by the date of creation. Recent Activity will sort topics based on the date of either creation or most recent comment. Popularity will sort the topics based on the number of Likes it has received.
Number of results: You can choose the number of results you wish to display in the widget.
Add topic: Select this if you would like members with the appropriate access (i.e., Write access or higher) to add topics directly from the widget.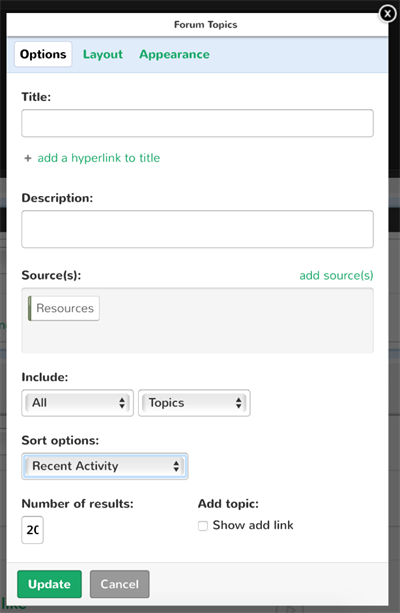 Layout
Customize your layout: You can determine what information is displayed along with the topic names in the widget by configuring the selections in here (e.g., User Photo, Type, Locked, Created By, Resolution, Channel, Activity Date, Replies, Likes).
Filter options: Show filter bar.
Pinned items: Show pinned items at the top of the list of topics.
Appearance
The Appearance tab options are discussed in our article on Widgets.
How to add and edit the Forum Topics widget
Refer to the Widgets article for instructions on how to add the Forum Topics Widget to a page.
997

views

0

previews

10

versions
Labels:
Avg. Rating:

Updated By:

Jesse Langstaff

May 6, 2019

Posted By:

Matthew Seabrook

September 4, 2017

Versions:

v.10
---