What is it?
Members of a digital workplace can use Folder channels to create corporate, team, and/or project-based file storage areas within your workplace. Members can store, organize, manage and share any type of file including Microsoft Office, PDF, Excel, and rich media. Members can follow content, subscribe, rate, comment, and add versions.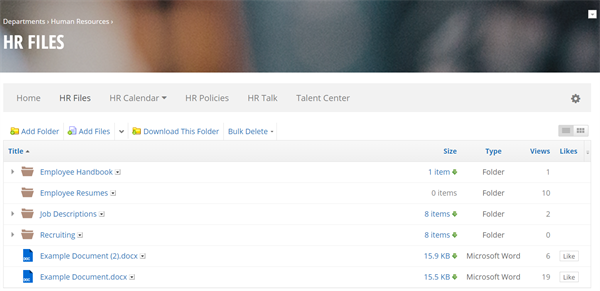 Use Cases
Department files
Use the Folder Channel to store all your documents in a tidy view, and invite your team to review and edit the latest drafts without ever having to email a file.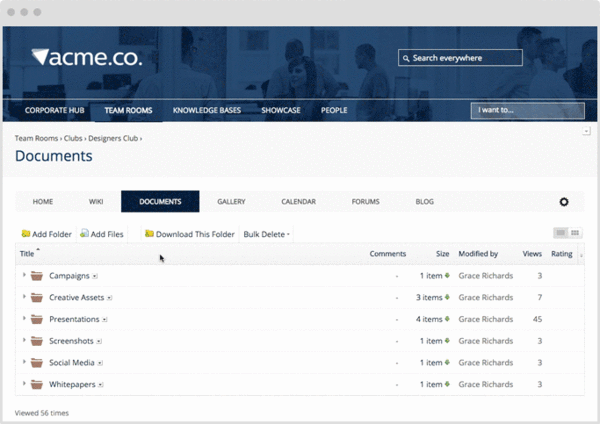 Folders specific to groups or individuals
You can use the Folder channel to store files related to a specific group. In that channel you can set Access within folders, and even specific files to tailor what content people will be able to view and interact with. If you have personal files, you can set Access to a specific individual so others will not be able to access the information. This is a great option for storing files like performance reviews, employment contracts, and additional files related to a specific person.
Features and functionality
Below is a list of features available on a Folder channel.
Title
Give each channel a unique name that describes the folders and files that will be housed within the Folder channel. This is the name that will appear on the channel, in navigation, and identify it in widgets.
Description
Create a brief description for people to learn more about the purpose of your Folder channel.
Add a subfolder
You can add subfolders to any folder
Note: The folder hierarchy is limited to 100 items, allowing a maximum of 99 sub-folders.The following options have their own dedicated support documents. Please follow the links for more information:
Change View
Folder channels can be displayed in a slideshow, thumbnail, or list view.
The Slideshow view displays a rotation of images located in the folder.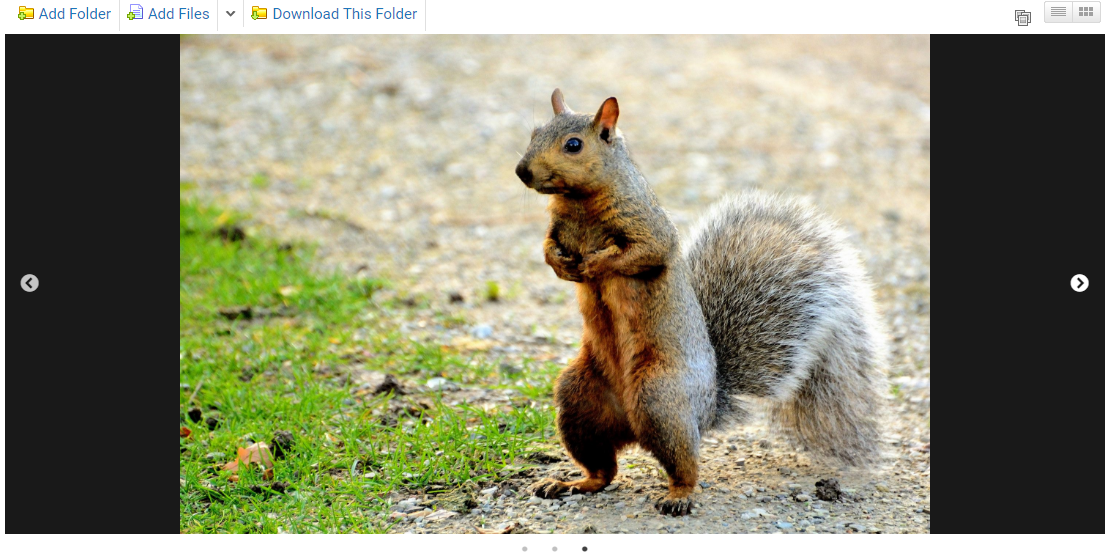 The Thumbnail view displays an icon based on the file type.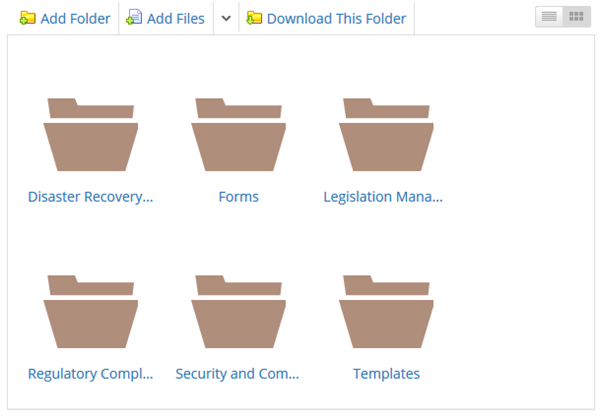 The Details view shows a stacked list of titles and smaller icons.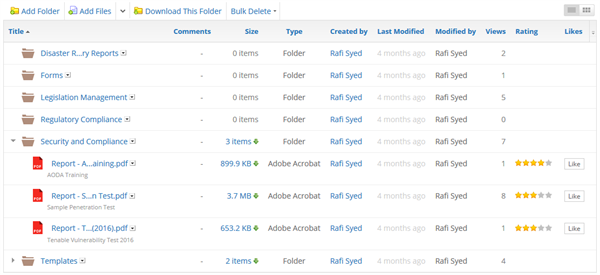 You can also adjust the visible columns by selecting the small icon on the far right of the column title bar.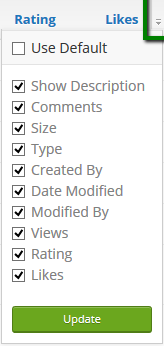 Folder Settings
Folder Channels have some specific Channel Settings. You can adjust the default view for the channel and subfolders within it. You can also determine if you would like the statistics box and download button to be displayed beside (columns) or below (rows) the preview when viewing the file.
The default view setting applies to all folders on a Folder Channel. However, a Folder can have its default view set to a different setting (Action button > Edit > Layout View).

How to create a Folder channel
If you have decided to include Folders in your workplace you will need to create a Folder channel to house all your documents and media files. Remember, you can add as many Folder channels as you need to keep your files organized and targeted at specific audiences.
Step 1: Open the Control Panel
In the top right corner of your screen, there is a gear-like icon. Select it.
Step 2: Select Site Manager
After you select the Control Panel icon, your Control Panel will appear. Select, Site Manager from the list of options.

Step 3: Open the menu
Select the arrow provided on the right side of the Add button to bring up a menu of options.

Step 4: Select Folder
From the list provided in the Channel menu, select Folder.

Step 5: Complete the fields and choose from the options presented
Once you select a channel, complete the required fields and select any desired options. For a description of these fields and options go to the Channel Features and Functions article.
Step 6: Select Add
Once you complete the fields and select any preferred options, click the Add button at the bottom of the screen.

Step 7: Confirm the new Folder channel has been added
A new Folder channel will appear at the bottom of your Site Manager.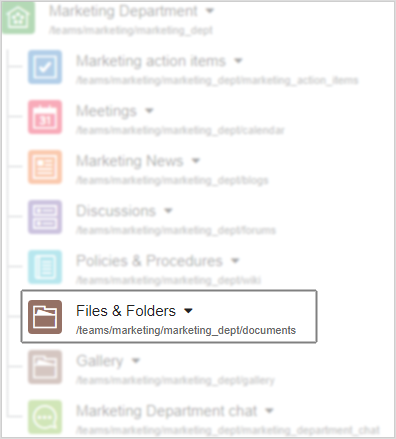 Adding a cover image to a Folder
To highlight the contents or purpose of a Folder a Cover Image can be added to it. This image is only visible when the Folder Channel is using the Thumbnail View.

Step 1: Place the desired cover image in the Folder
Only images within the Folder will be available as cover images.
Step 2: Edit the Folder
Click the Folder's action button and then Select Edit
Step 3: Click the Cover Image tile
The Cover Image tile can be found near the bottom of the Edit page
Step 4: Select an image and click Save to apply
Frequently Asked Questions
Can I move files from one folder to another?
Yes, you can move files from one folder to another. Within a document or piece of content, in the action items select Move and select the document where it currently is, then select the new folder you wish the content to live in, and click Move Here.
How do I control who can edit, remove, and read documents?
You can modify access by using the Access option at the channel, sub-folder, and file level. For more information, see our articles on Access.
Can I download files as pdfs?
Many text-based files can be downloaded as pdfs. When this is the case, there will be a downward facing arrow next to the Download button. Clicking this button will provide the option to download the document as a pdf.
Best practices / Tips and tricks
Improve file searchability
Files can be found through their titles, descriptions, content, and Labels so be sure to label your documents and encourage publishers to give files distinct and meaningful names, and to include appropriate labels on new files uploaded to a Folder channel.
Version control
Preview in-line, reserve, and manage edits through Version Control.
Use Tasks to coordinate activity on a file
Add tasks to coordinate actions like editing and Broadcasting documents.
Use subfolders to manage access
Organize files into folders, and control access rights at the file or folder level.
1,926

views

0

previews

18

versions
Labels:
Avg. Rating:

Updated By:

Jesse Langstaff

August 9, 2019

Posted By:

Matthew Seabrook

September 4, 2017

Versions:

v.18
---