What is it?
Files can be added as attachments to blog articles, wiki articles, forum topics, calendar events, microblog posts, and comments. Attachments can be downloaded and previewed where the file type permits.
Use Cases
Attachments are typically used when there are small files you want people to download that are directly tied to an article. The most common example is supporting documentation like receipts for expense reports.
Features and functionality
Upload Attachments
When authoring or editing a to blog articles, wiki articles, forum topics, calendar events, and microblog posts, you can add attachments.
Notes:
A single post can have up to twenty attachments.
Attachments have the same size limit as the rest of your workplace, typically 2GB.

Download
Anyone that can view a post can download its attachments.


Preview
Like with uploading files to Folder Channels, previews will be generated where possible for attachments. You can view the preview by clicking on the name of the attachment.

For documents and videos, this preview will also include an embed code.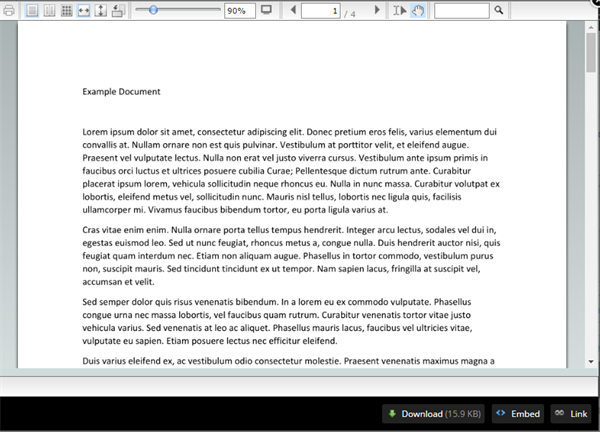 How to add an attachment
Step 1: Find the Attachments pane
The Attachment pane is available just below the WYSIWYG when creating or editing a blog article, wiki article, forum post, or calendar event.


When writing a microblog or commenting, there is an Attach File link in the lower-right corner.


Step 2: Add files
Drag files from your computer's file explorer or desktop into the attachments frame, or click on the frame to use your browser's file selection interface.
Step 3: Publish the article
Wait for the progress indicator on all of the files to reach 100%, then publish your post.
How to update an attachment
You can add new versions to attachments in blogs, wikis, calendars, and forums. Note that there is no version control for attachments. New versions of attachments may be created, but they overwrite the previous version.
Step 1: Edit the post
Select the Action Button on the post on which you want to update your attachments and choose Edit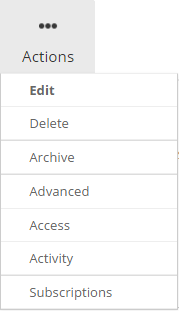 Step 2: Select Update
Select the small downward-facing arrow icon beside the name of the attachment you want to add a new version too and select Update.


Step 3: Add the new version
Drag a file onto the upload frame that appears, or click on it to select a file through your browser's interface.


Best practices
Use a Folder channel instead
Often it is best to upload your files to a Folder channel rather than as an attachment. Attachments do not appear in search and have fewer options available for managing them.
Adding files to an appropriate Folder and then linking to it using Related Content is often a better choice.
Frequently asked questions
Where are attachments stored?
Attachments are all uploaded to a hidden /.attachments folder.
What access rules are on my attachments?
Attachments have the same access rules applied to as the parent article they were attached to.
644

views

0

previews

8

versions

1

follower
Labels:
Avg. Rating:

Updated By:

Jesse Langstaff

May 6, 2019

Posted By:

Matthew Seabrook

September 4, 2017

Versions:

v.8
---