What is it?
The broadcast feature allows you to send messages to groups of people from anywhere in the digital workplace. By default, administrators have the ability to broadcast to anyone and everyone in the workplace, but broadcasting capabilities can be transferred to a workplace member by assigning a Role that permits someone to broadcast.
Broadcasts include customizable text and a link to the location where it was created. You can also choose which groups of people in your workplace will receive these messages when you send them. These messages are convenient when you want to announce site updates, corporate updates, or other events you'd like to tell members about.
Use Cases
Updated policies
When updating corporate policies, you can use broadcasts to announce the change. This ensures workplace members receive a notification both inside the workplace and via email.
Emergency notices
In the event of an emergency, you can broadcast a post out to all members or a select group of members to be sure they are aware of the situation.
Reminder to view content
Send a broadcast to remind users of the location and importance of specific content. Within the message of the broadcast, you can remind members to bookmark the page for future reference.
Features and functionality
Group Picker - You can choose from groups of people in your workplace to receive the broadcast message. Administrators will see all groups. Other members will see groups based on their Broadcast Management role.
Message - You can include a text message that will be sent via email along with a link to the location where you are sending the broadcast from.
How to disable and enable broadcasts
Broadcasting is available to everyone in a workplace by default. Administrators can adjust this.
Step 1: Open the Control Panel
The gear-like icon located in the top right corner of your workplace landing page will open the Control Panel.
Step 2: Select Global Settings in the Control Panel
Navigate to Settings in the Control Panel and select Global Settings.

Step 3: Select Broadcast
Once you have selected Global Settings there will be multiple options. Scroll down to Broadcast and enable or disable it.
Step 4: Save your changes
Scroll down and select Save
How to send a broadcast
Step 1: Scroll down
At the bottom of every location in your workplace, just above your footer, is a Broadcast button

Step 2: Select Broadcast
Select the Broadcast button. This should expand the broadcast interface.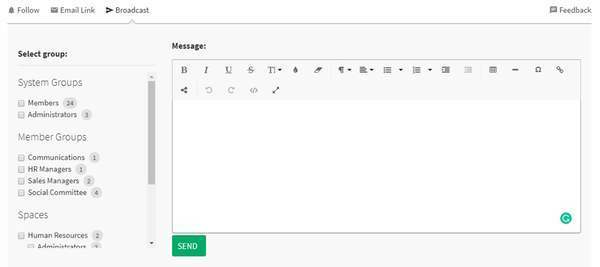 Step 3: Choose Groups
Use the checkboxes on the left-hand side of the broadcast interface to pick which groups of people should receive the broadcast. If you are unsure of who is part of a group, you can select the number to the right of any group name to see the members.
Note: People that members of more that one selected group will only receive one copy of the message.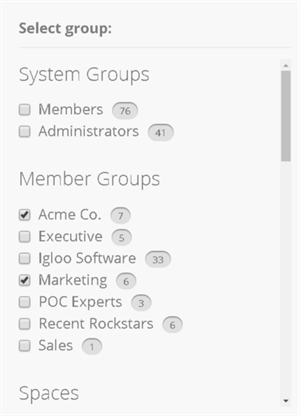 Step 4: Author a message
The broadcast will send an email to all of the selected recipients. Use the Message field to create the text that will be sent.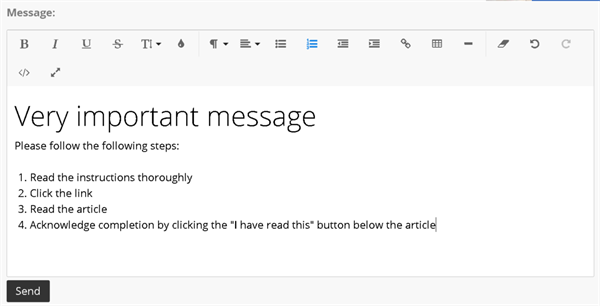 Step 5: Select Send
Select the Send button. This will immediately send the broadcast to all selected groups of people via email and through the message center in their userbar.

Frequently Asked Questions
Why can I only see some of the workplace groups?
Your site administrators have control over who has access to broadcast to whom. The most common configuration only allows you to broadcast to groups that you are part of.
How do I change who is allowed to broadcast?
Site administrators can change who can broadcast by adjusting the Broadcast Management Roles For more information, see the Roles article.
1,515

views

10

versions

1

follower
Labels:
Avg. Rating:

Updated By:

Jesse Langstaff

May 16, 2019

Posted By:

Matthew Seabrook

September 4, 2017

Versions:

v.10
---