What is it?
Moderation allows you to filter content and manage how items are published in your digital workplace. Moderation is supported in Blogs, Calendars, Forums, Wikis, and Folders. In addition, comments can be moderated anywhere that commenting is allowed.
An administrator can perform Moderation themselves, or assign any user to be the Moderator of a channel. Moderators can edit the content, correct spelling, or submit the content back to the author with comments and suggested edits. Content can also be rejected or even deleted if a moderator chooses.
Adding a moderator to a channel will grant that user Edit access to the channel. Removing Edit access from the user will remove them as a Moderator.
Use Cases
Vacation approval
Create a Calendar channel to collect vacation requests. Add the person who must approve vacation requests as a Channel Moderator. Members can submit calendar events with their requested time off and the Moderator may approve or reject the vacation request.
Article moderation
Create a Blog channel dedicated to a particular interest or purpose. All members of the channel should be given Write access so they can submit posts to the blog. Articles must be approved by the Channel Moderator before they can be published, and moderators can also choose to reject articles.
Financial document approvals
Create a Folder or Forum channel and add the person who approves expenses as a Channel Moderator. Members may submit their expenses and attach any required documentation for consideration. The Moderator may then approve or reject the expense claim. Tip: Create a Channel Template to ensure all required information is included in each submission.
Features and functionality
When configuring moderation, you have the following features available:
Moderation - Any channel can have moderation enabled such that an assigned moderator, or anyone with Edit access or above can approve or reject submissions.
Comment moderation - Any channel can have comment moderation enabled such that an assigned moderator, or anyone with Edit access or above can approve or reject new comments.
Assign moderators - Channel Moderators can be assigned and which will give them access to Manage that channel's content and will also have pending approvals for that channel appear in their To Dos
Email moderators - you can select whether to send an email to the channel moderators when something new requires moderation, in addition to appearing in their To dos
Email comment moderators - you can select whether to send an email to the channel moderators when a new comment requires moderation, in addition to appearing in their To dos
Automatic comment moderator assignment - You can automatically assign the author of the original content to moderate (edit, publish, and/or reject) people's comments.
Moderating
When moderating content, you have the following features available. You can find articles awaiting moderation in your To Dos or in the Manage area of a channel.
Add Notes - You can add notes that the author and other moderators can see
Assign - You can accept or send a moderated article to another moderator to indicate responsibility for moderation.
Edit - You can edit an article in moderation as though it were a Draft.
Add Authors - You can add authors if you wish to publish the article under another person's name.
Add Moderators - You can add other moderators if you need a second opinion on the work.
Publish - You can approve the work and publish it.
Reject - You can reject a piece of content with the option of sending it back to the original authors for editing, or deleting it permanently.
How to add a moderator
If you would like the content on a specific channel to be moderated, you can add a Channel Moderator so items submitted to that channel must be reviewed and approved before it is posted. Follow the steps below to add one or more moderators to a channel.
Step 1: Select Settings from the Action Button menu
To access the Moderation options of a supported Channel, go to the landing page of the Channel and select

Actions followed by Settings.
Step 2: Enable moderation
You can choose to hold items or comments for Moderator approval prior to publishing. Moderation of either item can be enabled or disabled by selecting Yes or No.
You can also choose to enable email notifications that will alert Moderators when a new item needs approval. In addition to receiving an email, an item will appear in their Igloo To-do list.
To change the author of an item to the Moderator, select Make the author of the item a moderator by default.
Note: Moderation options are identical across your entire Igloo.

Step 3: Add your moderator
Select the + next to Channel Moderators and type in the name of the person you want to moderate the channel. Then select Add. You should now see the person listed in the Channel Moderators column.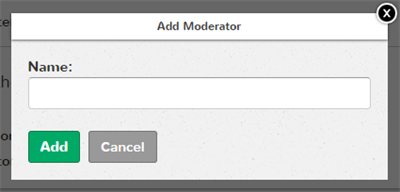 Step 4: Save your changes
After you have made your changes, scroll to the bottom of the page and select Save.
Frequently Asked Questions
If I configure the content for moderation but don't add a moderator, what happens to the content? Where does it go?
Content configured for moderation without an assigned moderator, will not publish nor will it send any notifications for moderation. The item will sit in a queue waiting for content to be moderated in the Manage area of that channel.
Can a person see who is moderating their content?
No one can see who is moderating content. Members will not know whether their content is being reviewed until it is either accepted or rejected.
If I add more than one Moderator, do all Moderators need to approve the item before it is published?
No, just one Moderator needs to approve the item for it to be published. However, if an item has already been sent back for edit, or rejected, the same Moderator must approve the item.
Best practices / Tips and tricks
Dual moderation
Do you need both manager and director approval on an item before it is submitted? If this is the case, you would add both people as Moderators within the Channel. The manager can post a comment to approve the content, then assign it to the director. To let him know he can review it. The director can then publish the item if he approves.
Send emails to moderators
Be sure to check the box "Send email to moderators" when a new item needs to be reviewed. This will alert the Moderator when something new requires their attention.
---