What is it?
At the bottom of each Channel, Page, and Space of your digital workplace is the option to send feedback about the current web page to the workplace administrators. The Feeback option is not displayed for non-workplace members, even if the page is viewable by Anonymous Users.
Use cases
Collecting feedback from users in your workplace
Feedback is critical for learning and development. It is important for your workplace administrators to know how the workplace is performing. It gives them an idea about what is working well, and what issues might need to be addressed.
Features and functionality
When the Feedback option is selected, a popup will appear prompting you to enter a subject and text containing the feedback. The type of feedback can be specified using the dropdown menu. Feedback types include: Feedback, Report Abuse, Report Issue, and Recommendation. Additional text can be added to the subject in the accompanying text box.
Workplace administrators will receive an email with the subject line indicating the type of feedback. The body of the email will contain a link to the location which the feedback is coming from, along with any additional comments that were provided.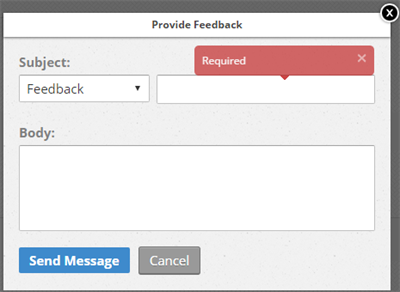 How to enable or disable the Feedback feature
Step 1: Open the Control Panel
The gear-like icon located in the top right corner of your workplace landing page will open the Control Panel.
Step 2: Select, Global Settings
Global Settings is listed under the Settings category in the Control Panel.

Step 3: Locate the Feedback option
Select the checkbox to enable or disable the Feedback option across your workplace. A check indicates that the Feedback option is enabled, while no check indicates that it is disabled.

Step 4: Save your changes
Scroll down and select Save.
574

views

0

previews

8

versions
Labels:
Avg. Rating:

Updated By:

Jesse Langstaff

May 6, 2019

Posted By:

Matthew Seabrook

September 4, 2017

Versions:

v.8
---