What is it?
Wiki Channels are a collection of wiki articles that live in one place in your digital workplace. Wikis allow multiple authors to collaborate on content, exchange edits, and compare drafts. Some teams use wikis for project documentation, and others for policies and procedures. Wikis can be used to organize and share information such as to-do lists, meeting notes, and observations, and to get feedback via the comments. Wiki's are useful for storing information that does not need to be updated regularly, like standard operating procedures, corporate policies, and safety considerations. A wiki can also act as a department's knowledge management center storing all relevant documents, videos, and images.
Use Cases
Store, share, and update company policies and procedures
Use a wiki to create a place in your workplace for members to easily find answers to frequently asked questions. For instance, you can store standard policies and procedures for everyone to see, such as information about benefits or submitting an IT request. And when the policies and procedures change, wiki articles can too, and multiple authors can exchange feedback and compare drafts.
Crowdsourcing of information specific to a job or role
Use a wiki to crowd source best practices, use cases, or tips and tricks from people within the team, company, and beyond. To add a layer of approval and ensure duplicates are not being posted, add a moderator to help keep things organized.
Features and functionality
Title - Please give this channel a name that describes the wiki articles that will be housed within.
Location - This feature allows you to choose where the Wiki channel will reside in your workplace.
Hide from navigation - When this feature is selected, no one will be able to see this channel. However, you can still access the channel through the Site Manager or by its URL.
The following options have their own dedicated support documents. Please follow the links for more information:
- Subscriptions
- Search Engine Optimization
- Access
- Email Content
- Read Tracking
- Channel Color
- Channel Template
Wiki versioning
When an existing wiki article is edited its version number is incremented. This version number is located in the articles information panel. Selecting the number navigates you to the article's version page. On the version page you can select any two versions to perform a comparison of what is different between them. Selecting the timestamp of a previous version will provide you with an option to revert to that version. Additional information on versioning can be found here.
Wiki Channel Labels
Editing a Wiki Channel provides the ability to add Labels to the Channel. Labels applied this way are independent of Labels that may be on Articles within the Channel.
How to create a Wiki channel
If you have decided to add a wiki to your workplace, you'll need to create a Wiki channel to house all of your wiki articles. Remember you can add as many Wiki channels as you require to keep your articles organized and targeted at specific audiences.
Follow the steps below to add a Wiki channel to your workplace.
Step 1: Open the Control Panel
Select the gear-like icon in the top right corner of your screen.
Step 2: Select, Site Manager
After you select the Control Panel icon, your Control Panel will appear. Select, Site Manager from the list of options.

Step 3: Open the menu provided on the Add button
Select the arrow provided on the right-hand side of the Add button to bring up a menu of options.

Step 4: Select, Wiki
From the list provided in the menu, select Wiki.

Step 5: Complete the fields and choose from the options presented
Once you select a channel, complete the required fields and selected any desired options.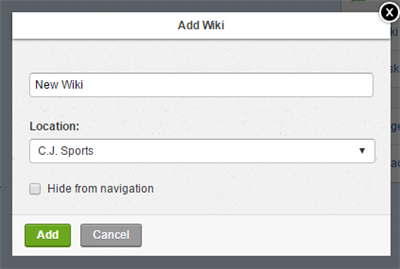 Step 6: Select, Add
Once you complete the fields and select any preferred options, select the Add button at the bottom of the screen.

Step 7: Confirm the new Wiki channel has been added
A new Wiki channel will appear at the bottom of your Site Manager.
Frequently Asked Questions
What is the difference between Wiki Home and Wiki Title?
The Title Index provides an alphabet navigation tool that allows you to quickly navigate to an article if you know it's title. This navigation tool may also appear in the Wiki Home view if it is turned on using the wiki channel settings. The Wiki Home view gives the option of adding an introduction to the content inside the Title Index. Think of it almost as a book cover and preface to what users are about to consume.

How do I organize content into multiple Wikis and display them together in one area and individually in others?
Organize your content carefully using a combination of channels and consistent terminology in your article titles. If you want multiple wikis to appear in one area, read our Wiki Index widget article to learn how to add sources. This will also allow you to display the Wiki channel in a department, for example, as well as through a widget within another area of the site.
How many Wiki's should I use?
When you are looking at all the content you want to house in a Wiki channel, you will want to consider how items relate and how you want to sort content. If you have multiple locations that will have their own set of policies, procedures, and information, you may want to have a Wiki channel for each location. If you have a large employee handbook, you may want to use a single Wiki channel just for that, and use chapter numbering to keep a chronological order before the title name.
1,554

views

0

previews

13

versions
Labels:
Avg. Rating:

Updated By:

Jesse Langstaff

May 6, 2019

Posted By:

Matthew Seabrook

September 4, 2017

Versions:

v.13
---