What is it?
Wikis store information alphabetically, making it easy to access and update. Some teams use wikis for project documentation and knowledge bases, and others for policies and procedures. Wikis can be used to organize and share information such as to-do lists, meeting notes, and observations, and to get feedback via the comments. Wikis allow multiple authors to collaborate on content, exchange edits, and compare drafts.
Use Cases
Using Wiki articles for documentation, policies, and procedures
Most digital workplaces use wiki articles for documentation, knowledge base articles, or policies and procedures. These are typically displayed using the Title Index view, providing an alphabetical library of articles.
How to add an article to a wiki
There is more than one way to add a wiki article. See below for instruction on the most common way to add a wiki article to a wiki.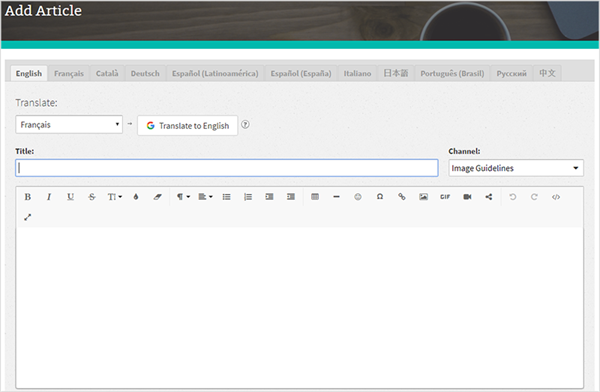 Step 1: Navigate to the Wiki Channel
Navigate to your Wiki Channel, and select Add Article, on the right-hand side.

Note: You can also do this using the Add Content button in your userbar or via some widgets.
Step 2: Create a wiki article
Once you have selected Add Article, you will be presented with the fields that need to be completed in order to create a wiki article.
Step 3: Add a title
All content created in a digital workplace needs a title. The title will appear above the content and will also be used to generate a unique URL.

Step 4: Choose a channel (optional)
You can select (or change) the channel to which your content will be published by using the channel selector. You can filter the channels that are displayed in the dropdown menu by entering text.

Step 5: Write your article
Use the WYSIWYG editor to write your article.

Step 6: Add attachments (optional)
To add attachments, either drag files from your computer into the attachments field, or select "Select files from your computer". Attachments will appear directly below the body of your published article and will be available for download.

Step 7: Add Related Content (optional)
You can include Related Content when creating content.
Step 8: Set up a Broadcast (optional)
You have the option to have a Broadcast go out to the digital workplace upon publishing an article.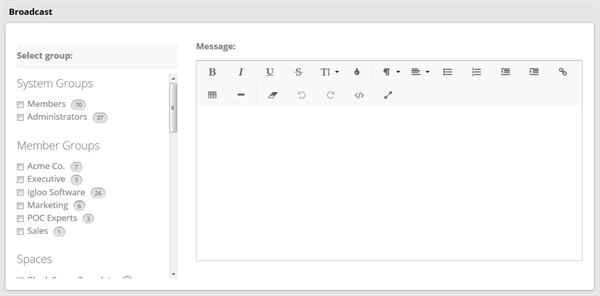 Step 9: Add Labels (optional)
You can apply Labels to your article to make it easier to find.

Step 10: Disable comments (optional)
It is possible to disable comments on your content by unselecting the Allow members to post comments checkbox.

Step 11: Set a publish date (optional)
You can schedule a post to be automatically published in the future. Use the fields in this area to select the date and time you would like the content to be published.

Step 12: Adjust Archiving policy (optional)
You can change when an article will be archived, or prevent it from being automatically archived. Use the options in this field to override default archiving on the channel for the article you are publishing.

Step 13 (Optional): Set Read Tracking
Read Tracking allows you to track whether or not a person has engaged with a piece of content, and can be enabled on any article. Use the options here to turn on Read Tracking and customize the button text in any supported language.

Step 14: Publish, save it as a draft or send it to a moderator
Once your article is complete, you can save it as a draft, or publish it, which will make it immediately available in the selected channel. If the channel is moderated, you will see an option to send your article to the moderator instead of the option to publish directly. Review the article, Moderation to learn more.
1,104

views

0

previews

11

versions
Labels:
Avg. Rating:

Updated By:

Jesse Langstaff

May 6, 2019

Posted By:

Matthew Seabrook

September 4, 2017

Versions:

v.11
---