What is it?
The Messages area in your userbar contains all of the personal, direct messages that are sent to you or by you in your digital workplace. It also contains any Broadcasts that are sent to you.
Features and functionality
There are a number of additional features and functions found in the Messages feature, including:
The ability to select:
The ability to Mark as Read/Unread
The ability to Delete
The ability to perform all of the above actions in bulk by using the Select options
The ability to compose a new message using the Compose New Message button in the upper right-hand corner
How to send a new message
Step 1: Compose a new message
Click on the New Message button to the upper-right of your list of messages.

Step 2: Choose recipients
Start typing the name of the recipients. The system will search by first name, last name, or email. You can individually include as many members of the workplace as you like.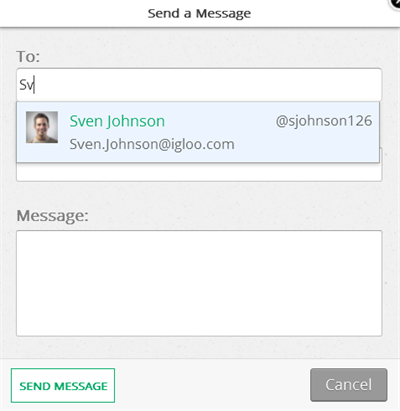 Step 3: Fill out fields
Include a subject and a message.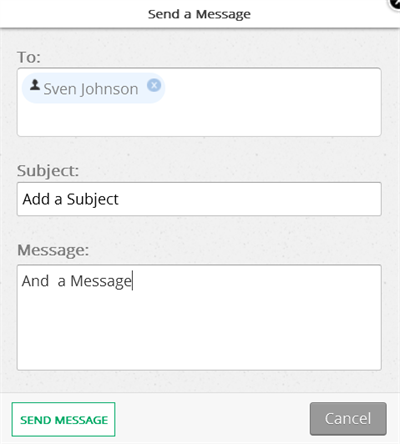 Step 4: Send the message
Click Send Message.

How to mark a message as read or unread
When viewing your list of messages, click the small dot button to the far left of any message. It should change from blue to gray, or back. Blue indicates Unread, gray indicates Read. Alternately, you can select multiple messages using the checkboxes and then click the Mark as Unread or Mark as Read button.

When viewing an individual message, there is a Mark as Unread button at the top.

How to delete a message
When viewing your list of messages, you can click on the checkbox to the left of any message to select it. Once selected, click on the Delete button to remove them.
Note: Messages cannot be recovered once they have been deleted.
Frequently Asked Questions
How do I stop receiving email versions of my messages in Igloo?
There is a link at the bottom of the Messages page that allows you to Disable Notification. This will prevent emails from being sent when you receive an Igloo notification, however, they will still appear in your messages area.
Why don't my subscriptions show up in my messages?
Following or Subscribing to something in an digital workplace always generates an email which does not appear in the Messages section. It is a separate feature of Igloo.
What is the megaphone icon beside some of my messages?
The megaphone icon indicates that the message originated from a Broadcast.
2,100

views

0

previews

9

versions
Labels:
Avg. Rating:

Updated By:

Jesse Langstaff

June 30, 2021

Posted By:

Matthew Seabrook

September 4, 2017

Versions:

v.9
---