What is it?
Branded Email Notifications is a feature that allows you to customize some aspects of the format of emails sent by your digital workplace. This includes the ability to include a logo image and a primary color which will appear in the emails sent via your site.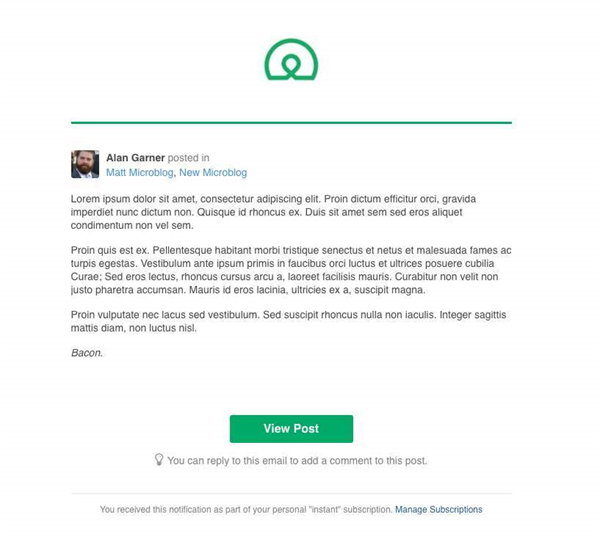 Features and functionality
Settings for your notification branding are found in the Appearance area of your control panel. This feature may need to be enabled by your Igloo representative.
Logo
You can include a logo which will appear centered, at the top of most emails sent by your digital workplace. Clicking this logo from a notification will provide navigation to the homepage of your digital workplace.
The image has maximum dimensions of 1200x400 pixels and a 1MB file size limit. The accepted formats are JPG and PNG.

If you do not include a logo, your digital workplace name will appear instead, in the Primary Color that you select.
Primary Color
You can set a Primary Color which affects heading color, borders, and buttons in your emails.


You can select your Primary Color either from a hue/saturation/brightness selector interface or by entering the RBG hex code.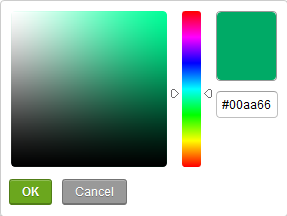 Preview
You can see a preview of your email format by selecting the Preview Button found with the Email Notifications settings.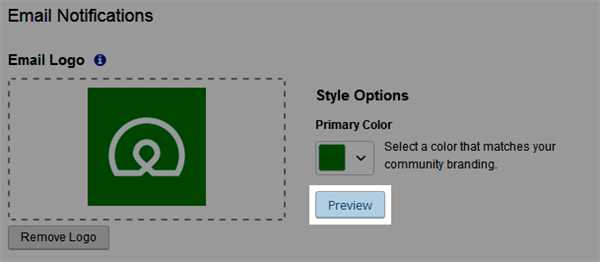 How to configure your email notifications
Step 1: Open the Control Panel
Select the gear-shaped icon in the upper-right corner to open your Control Panel. Only Workplace Administrators have access to this area.
Step 2: Navigate to Appearance
Once the Control Panel has been selected, navigate to Appearance under the Presentation tab.
Step 3: Add a logo
Use the Email Logo interface to select an image file to upload. The image has maximum dimensions of 1200x400 pixels and a 1MB file size limit. The accepted formats are JPG and PNG.
Step 4: Select a primary color
You can select a primary color by clicking on the color swatch presented.
In the dialogue that opens, you can choose your color by moving the hue slider up and down and then clicking on the brightness/saturation pane to choose the final shade, or you can enter an RGB hexadecimal code.
Frequently Asked Questions
Why don't I see the Email Notifications settings in my Appearance area?
This feature may not be enabled in your site. Please contact your Igloo representative to have it enabled.
Will this affect all Igloo emails?
This feature will affect the majority of outgoing emails. The exceptions include task notifications, read tracking reminders, join requests, and some other administrative notifications such as invitations being accepted and new member welcome messages.
Why am I not receiving Notifications after Branding was enabled?
Some spam filters may now flag the emails after the change. We recommend whitelisting your domain, marking it as a safe sender, to ensure the Notifications arrive successfully. Your IT team should be able to help you with this task.
---