Overview
Use calendar events to organize your team, set corporate events, track vacations, and maintain deadlines. 
Calendar events live in Calendar Channels and can be aggregated using a Calendar Events widget.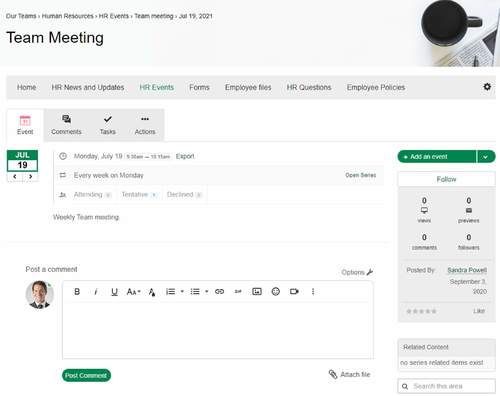 Considerations and caveats
Channel templates
If you are creating events on a channel that follow a consistent structure, consider setting up channel templates to pre-populate the body of new events with the recurring elements to save time. For more information, see Channel Templates.
Creating
You can start creating a calendar event in a couple of different ways (you require at least write access to a calendar channel to be able to add content to it):
Go to a calendar channel and select + Add an event.
On the userbar, select Add Content followed by Calendar Event.
On a Calendar Events widget configured to show an add link, select + Add Event followed by a channel that you want to post on.
On an Add Button widget configured to post to a calendar channel, select + Add an event.
On a third-party calendar, invite the calendar channel to the event. The channel must be configured to allow emailed content. For more information, see Add Content via email.
Except for the third-party calendar method, the different options above will bring you to the Calendar Event page, where you can craft your event. You can find more information about the various fields and settings in the Options section of this article.
After you have finished crafting your event and configuring its various options, you can select:
Save as Draft: By saving the event as a draft, you can return to editing it later or add additional authors. For more information, see Drafts and Ghostwriting content.
Publish / Send to Moderator: Add the event to the selected channel. If the channel has moderation enabled, the event will only get posted after being approved by a moderator. For more information, see Moderation.
Options
Standard 
Title
Enter a name for the event. This name will appear above the event and will also be used to generate a unique URL. This field is required.
Channel
Select which channel you want to publish to. When you start the content creation process from a widget or channel, the Channel field defaults to the channel you selected or were on. In contrast, creating content using the add button on the userbar results in the Channel field being blank. In all cases, you have the option to select a different channel. This field is required. 
To select a channel:
Select the Channel drop-down.
Search for a Channel by its name or the name of its parent Page or Space. This search will return up to 100 results. You will only see Channels to which you have at least Write access and their parent Page or Space (regardless of Access Level).
Select a Channel from the list by clicking on it.
Summary
Enter an overview of the event. This will be displayed in plain text above the main body of the event. Summaries have a maximum size of 2048 characters.
Invite attendees
Enter use names in the provided text box to invite them to the event. As you type, a list of search results will be returned; select the intended user from this list. Invited users will receive a notification informing them about the event invitation.
Enable open invites (RSVP)
Select if you want to allow users to sign up to attend the event themselves.
Description
Enter the body of your event. For more information about the available tools, see WYSIWYG Editor.
Attachments
Drag files from your computer into the attachments field, or select Select files from your computer to browse your computer. Attachments will appear directly below the body of your published event and will be available for download. For more information, see Attachments.
Labels
Select what labels to apply to your event. You may be required to select a label depending on how the channel is configured.
To add a label, select the label drop-down and search for the label that you want to add. Once you have found it, select it to apply it to your event.
For more information, see Labels.
Scheduling 
Start date and Start time
Select when the event is occurring and at what time.
End date and End time
Select when the event is ending and at what time.
All day event
Select to have the event take up entire days. When selected, you cannot select a Start time or End time.
Recurrence
Select Make recurring to configure the recurrence options. Each repeat frequency provides additional options:
None: The event does not recur.
Daily: Select to have the event repeat every x days.
Weekly: Select to have the event repeat every x weeks. You can also select which days of the week to recur on.
Monthly: Select to have the event repeat on a specific day each month; by date (e.g., day 1 of every 1 month) or by pattern (e.g., first weekday of over 1 month).
Yearly: Select to have the event repeat on a specific day each year; by date (e.g., every 1 year on January 1) or by pattern (e.g., every 1 year on the first day of January).
After select how frequently the event recurs, you can select when it ends.
No end date: Events will be generated for the next 6 months. Additional events will be created to reflect the next 6 months.
Ends after: Select the number of occurrences before ending the recurrence.
Ends by: Select on what day the recurrence should end.
Timezone
Select which timezone you want to format the date in. 
Location
Enter a description of where the event is occurring.
Reminder
Select whether a reminder is sent out before an event starts or ends. This reminder is for third-party calendars only. If a user adds the event to their calendar (e.g., Microsoft Outlook), this setting will be used to generate a reminder within the configured conditions.
Advanced 
Related Content
Search for content to add as related. For more information, see Related Content.
Broadcasting
Select what groups to broadcast the event to. Which groups you can select, if any, is determined by roles. For more information, see Broadcasting and Roles.
Commenting
Toggle whether users can post comments on the event. For more information, see Comments.
Archiving
Select an archiving policy for your event. For more information, see Archiving.
Read tracking
Select whether your event has read tracking enabled and customize the text of this button. For more information, see Read Tracking.
Languages & Translation 
Current language
Select to change which language version of the event you are looking at. For more information, see Languages and Translation.
Translate
Select a language to Translate from and a language to Translate to, and then select Translate. The title, summary, and description of the initial language will be translated into the selected language. The language you are currently viewing will change to the one that you translated to.
Translated fields will have a verify checkbox appear under them. Check this box after having read the translated content and verified its accuracy. This can be used as a method of auditing whether the translated text was reviewed.
---