What is it?
The calendar helps you organize your team, set events, and maintain deadlines - for your whole company or just specific teams. Creating calendar events in your digital workplace is just as simple as doing so in any other digital calendar you may have used, including features like setting a recurrence, and inviting attendees.
Use Cases
Using calendar events to keep things organized
Your digital workplace calendar is a great place to track deadlines, book team meetings, and plan events. It helps keep you and your teams organized, up-to-date, and on track.
Personal agendas
For smaller organizations, it is often useful for each User to have their own Calendar Channel, allowing them to update their availability and display it on shared pages in the digital workplace.
Vacation or out of office calendar
Calendars can be used to book out of office time, or even vacation time by using the Moderation function available in the channel settings.
Features and functionality
Using the calendar, you can create events for different teams or for an entire digital workplace so people are kept up-to-date with the latest activities in the digital workplace. To learn more about the features and functionality available in our calendar that will allow you to create customized events, refer to the article, Calendar Channel.
How to add calendar events
There are three ways to create a calendar event. You can add an event using the Calendar Events widget, navigate to the Calendar Events channel and using the Add Article button there, or use the Add Content feature on the userbar. To use the Add Content option on the Userbar, refer to the Add Content - Userbar Quicklinks article. When you create a new event, you will also be given the option to choose which channel the event should live in, making it quick and easy to create your calendar event.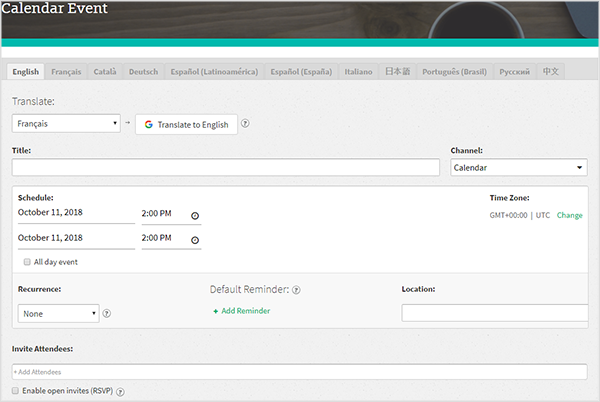 Step 1: Navigate to the calendar
Navigate to the calendar in which you would like to create a new event.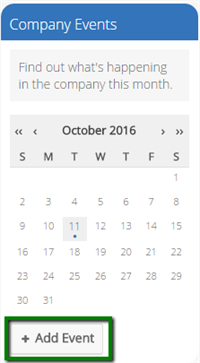 Step 2: Select the Add Event button
Once you have selected the Add Event button you will be taken to a new page to create your event. Here, you can choose the channel you would like to create the event, as well as invite attendees, set a recurrence, and more. Selecting a Recurrence option will allow you to further specify details regarding the recurrence. For example, to create a biweekly event select the Weekly recurrence option and then specify it to recur every 2 weeks.
Step 3: Publish your calendar event
Once you have filled the required fields you can scroll to the bottom and publish your calendar event.

Frequently Asked Questions
How can I include events from my Google or Outlook calendars into a calendar in my digital workplace?
Events from third-party calendar applications can be added to your Igloo calendar by adding the calendar's email address to the invitation list for the event. For more information, consult the Adding Content via email article.
How does the Time Zone function in events work?
For organizations with people in multiple time zones, events can be scheduled in the time zone of the creator, rather than the digital workplace default.
1,203

views

0

previews

10

versions

1

follower
Labels:
Avg. Rating:

Updated By:

Jesse Langstaff

May 6, 2019

Posted By:

Matthew Seabrook

September 4, 2017

Versions:

v.10
---