Forums are channels within the digital workplace that allow you to add topics, pose questions, share ideas, and post comments. They are a great way to encourage discussions and collaboration within your organization.
Use a Forum channel to provide a place for people to ask questions, and provide a space for people to ask questions. Active forums encourage people to share knowledge, start discussions, ask questions, and solve problems collaboratively.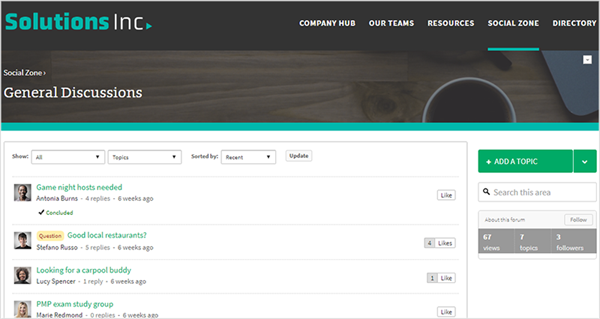 ---
Use Cases
Forums are built for having discussions, asking questions, ideation, or issue reporting. Here are some additional examples of effective uses for forums.
IT support forum
An IT support forum could be created to capture IT related questions. Questions are submitted to the forum and answers are shown in line, allowing everyone to see the answer. People can also search the forum to see if the question they are asking has been answered before. Once a question has been answered, it can be marked as answered/concluded which pins the solution to the top of the page, so you don't have to scroll through the entire forum to find it.
Request forum
Marketing departments commonly use forums to provide a space for other workplace members to request collateral. Using Moderation along with the request forum lets moderators preview requests and ask for more information when required. A great example of how this feature can be used is for requesting materials like business cards or tradeshow brochures.
---
Features and functionality
The following are features available for all Forum Channels
Title: This is the name that will appear in navigation, search, widgets, and on the channel, itself.
Description: Create a brief description for people to learn more about the purpose of the Forum channel.
Locking: A forum channel can be locked preventing new posts from being created. An individual post can be locked as well, preventing further comments. This is useful to close out conversations that have completed, or cutting off conversation in case of abuse.
Forum topics: When you create a Forum channel you will be prompted to select the type of topics you want the forum to include. You can choose to limit the forum just to questions or you can select all the provided options to permit all topic types. This feature also allows you to create widgets in other areas of your workplace that display just one type of forum Topic. For example, you may want to add a widget to a customer service space that shows all forum discussions in your workplace labeled with Ask a Question but not the discussions, ideas, or issues.
Location: This feature allows you to choose where the Forum channel will reside in your workplace.
Hide from navigation: When this feature is selected, no one will be able to see this channel. However, you can still access the channel through the site manager or by its URL.
The following options have their own dedicated support documents. Please follow the links for more information:
---
How to add a Forum Channel to your digital workplace
Follow these steps to add a Forum Channel to your digital workplace. 
How you start depends on your role in the digital workplace:
Click the + Add button on the Site Manager/Navigation page and select Forum Channel from the list.
In the Add Forum Channel window, complete the following fields:

Title: Enter a name for the Forum Channel.
Description (optional): Enter a description of the Forum Channel. 
Forum Topics: Select the types of topics that your users can create. Options include:

Start a Discussion
Ask a Question
Propose an Idea
Report an Issue

Location: Select where to place the Forum Channel.

You can only place Forum Channels under Pages or Spaces. 
Only Pages and Spaces to which you have at least Read Access are visible.
To select a Page or Space:

Click the Location dropdown.
Search for a Page or Space by its name. This search will return up to 100 results that match your search query. These results also display the locations above matching Pages and Spaces. 
Select a Page or Space from the list of search results.

Hide from navigation (optional): Select to prevent the Forum Channel from being shown in any navigation menus. 

Click Add to create the Forum Channel.
After creating the Forum Channel, you should go to it and configure the following:
---
Best practices / Tips and tricks
Specify/Restrict Forum type
The type of posts allowed in a forum instance can be enabled/disabled. This allows you to indicate and focus the kind of conversation you expect to have on that Forum


Create a Template
A forum can have a Channel Template created on it so you can tailor the content with specific information from users.
Assign a unique email address
By assigning a unique email address to a Forum channel, you can email in your requests, ask a question, and submit ideas even if you only have mobile email access.
Initial access rules
When you first create a forum channel, it will inherit any cascading, anonymous, and author access rules from the page or space above it. However, if you create this channel at the root of your digital workplace, the channel will be given the same cascading specific access rules as your digital workplace's current homepage. At the same time, the channel's anonymous access rule will receive a value of No Access, while the author access rule will receive a value of Full Access. Since the specific access rules are placed on the channel, not inherited, they will persist even if you move the channel to a different location. To change the access rules on a channel, select
Actions followed by Access to navigate to its Access page.
---
Frequently Asked Questions
How can I sort the categories within a channel?
Each channel will have filter bar at the top that allows you to sort based on resolved and unresolved, the type of topic, and frequency. In a large forum this will help you narrow down the content you are looking for. It is also ideal to use Labels to assist with searching for topics. Each Forum channel has a Search This Area bar that is specific to only that channel.
I received an initial notification that new content was posted in the channel but no subsequent comment notifications within the initial message.
This happens if you are only subscribed to the Channel. To receive all notifications of comments posted in a specific forum topic, you will need to manually go to the post and select Follow from the sidebar. Remember, if you have commented on the post, you will automatically receive notifications.
What Access level is needed to resolve forum topics
Anyone with Full access or above will have the option to mark comments as resolutions to Forum Topics. They can also unmark them.
---