Auto-restore content
Content within the WYSIWYG Editor (excluding Tasks, HTML Widgets, and Integration Widgets) will auto-save every 3 seconds to your browser's local storage. If your browser closes unexpectedly, you will have 60 minutes to restore your content by navigating back to the location where you were working.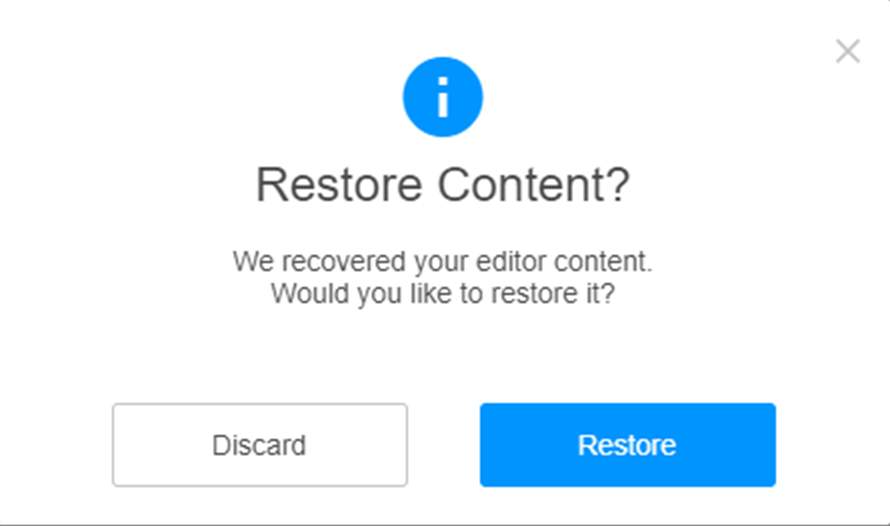 Considerations and caveats
Keep in mind the following when working with this feature:  
If you have browser settings that clear cookies or data when the browser closes, auto-restore cannot restore content after your browser closes.
Auto-restore does not work for Anonymous users (user's who are not signed into the digital workplace).
Auto-restore is not available on Tasks, HTML Widgets, and Integration Widgets.
Auto-restore is linked to the member and browser. You cannot restore another member's content or your content using a different browser.
Example: When your browser recovers pages after a crash
Some browsers will attempt to recover all pages that were open at the time of a crash. In these cases, any pages where you were entering text into a WYSIWYG Editor will prompt you to restore the content once they reload. Click Restore to recover your content and pick up where you left off.
Example: Restoring content by navigating to it
If your browser does not recover any pages after a crash, you must navigate to where you were working before the crash. Once you arrive at that location, you will receive a popup asking whether you would like to recover your WYSIWYG Editor content. To locate what you had been working on:
1,047

views

3

previews

2

versions
Labels:
Avg. Rating:

Updated By:

Jesse Langstaff

June 22, 2021

Posted By:

Jesse Langstaff

March 12, 2020

Versions:

v.2
---