What is it?
The Anonymous Access feature is an access setting that is available for channels, pages, and spaces that determines whether users who are not part of your digital workplace can view its contents. A page that provides View-only access can also have its content searched and indexed by search engines.

Use Cases
Public extranet
If you want to give users outside your workplace the ability to view content within your workplace, and potentially comment, you must first allow them to see elements of your workplace initially. This can be done by setting elements of your workplace to have View-only access. Check out the article on Anonymous Commenting to learn how to allow people to comment without being a member of your workplace.
Features and functionality
The Igloo platform is simple and intuitive but that doesn't mean its capabilities are limited. There are a number of ways you can configure your digital workplace to do exactly what you want. Below is a list of all additional features found within this particular feature or function.
Anonymous users have two possible access rules that can apply to them, View-only access and No Access. The former allows people who are not part of your workplace to view a particular channel, page or, space, while the latter restricts viewing of the page to people who are members of your workplace. Areas in your workplace default to being No Access.
The ability to grant anonymous access can be restricted to workplace administrators through the Public Sharing option in the Global Settings area of the Control Panel.
You can alter the access of anonymous users across your entire workplace through the Control Panel option Public/Private Access.
How to change the Anonymous Access of a location in your workplace
Follow the steps below to enable Anonymous Access on a page, space, channel, or piece of content in your workplace.
Step 1: Select the Action Button
In the top right corner of your channel, page or space there is an icon that looks like a downward pointing triangle. Select it.
Step 2: Select Access
After you select the Action Button, the action menu will appear. Select Access from the list of options.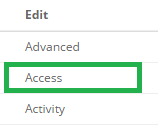 Step 3: Select the Action Button next to Anonymous Users
This action button allows you to set rules, giving anonymous users View-only access or no access at all.

Note: These rules are cascading. See the article on Cascading and Inheritance for more information.
Frequently Asked Questions
Is Anonymous Access cascading?
Yes. Anonymous Access rules do cascade. They can be changed at any level, though, without disabling inheritance.
---