What is it?
Invitations allow you to send emails to people that you would like to be part of your digital workplace. These emails have instructions and links for registering and setting up a password and can also include a custom message to give context for the invitation.
Administrators and those with the Manage Invitations role can access the Invitations link from the Control Panel to invite people to the workplace, or check on invitations which have already been sent out.

Features and functionality
There are several features and functions available in the invitations option. You can:
Create a list of invitees - You can invite up to 20 people at a time. All invitees will receive the same message and be added to the same groups.

Personal Message - You can add a personal message to your invitation explaining to recipients why they are receiving it and encouraging them to complete the registration.

Remember this Message - You can Save your personalized invitation as the default for your workplace so all Administrators can use it when sending future invitations
Customize your welcome message - A customizable email message is sent to people who successfully complete the invitation process.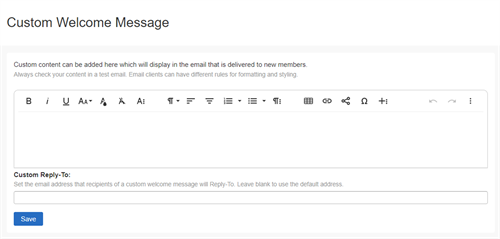 Select Groups - You can choose which Groups people will be added to when they accept the invitation.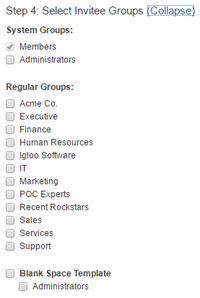 Monitor invitations - You can view pending invitations, resend them, and cancel them.

Considerations and caveats
Member account guidelines
For information about the responsibilities associated with managing accounts, see Member account guidelines.
How to send an invitation
Follow the instructions below to send invitations to join your workplace.
Step 1: Access the Invitations pane
Open the control panel by selecting the gear-like icon in the upper right corner of your screen and then Invitations
Step 2: Create your list of invitees
Fill out the Name and Email address fields. Select Add to List. Repeat as necessary if sending out multiple invites.
Note: You can invite up to 20 users at a time. These invitees will be assigned to the same groups selected in Step 4, below.
Step 3 (optional): Add a personal message
Your personal message will appear in the invitation that you send.
Note: If you select Remember this Message, your personal message will automatically be added the next time an Administrator chooses to send an invitation.
Step 4 (optional): Update the custom welcome message
This message will be emailed to the invitee once they accept your invitation to become a member of your workplace.
Step 5 (optional): Select the Invitee Groups
Select which groups to add the new member to when they accept the invitation by clicking on the check boxes next to the group names.
Note: The list is initially hidden. Select Expand to see the full list of groups.
Frequently Asked Questions
I sent an invitation to someone but they didn't receive it. What happened?
If your recipient doesn't receive their invitation, it may have been mistakenly flagged as spam and placed in their junk email folder. Check the Pending Invitations section of your invitations page. This will confirm if and when the invitation was sent. You may want to verify the email address used on the invitation as well.
If there is no invitation listed in the Invitation Pending window, it could be that either the invitation was never sent, or it was sent more than 30 days ago, invitations expire after 30 days.
1,838

views

0

previews

12

versions
Labels:
Avg. Rating:

Updated By:

Jesse Langstaff

June 29, 2021

Posted By:

Matthew Seabrook

September 4, 2017

Versions:

v.12
---