Networked Enterprise
A Networked Enterprise is an enterprise-level architecture supported by the Igloo platform that provides centralized management of multiple digital workplaces. Often referred to as a hub and spoke enterprise or enterprise solution. A hub and spoke enterprise consists of a single hub (a central digital workplace) and one or more spokes (all other digital workplaces within the enterprise). Used in combination with an Enterprise Administration Panel (EAP), this is a scalable and flexible framework for large distributed enterprises.
Interested in getting a Networked Enterprise solution for your organization or adding more spokes to your existing Networked Enterprise? Visit the Igloo Marketplace to learn more.
Management of the Networked Enterprise
A Networked Enterprise has an additional scope of administrator called the Enterprise administrator. These administrators have access to the Enterprise Administrator Panel (EAP) where they can perform the following actions:
Enterprise Administrators have full administrator access to all digital workplaces within a Networked Enterprise.
Membership and Authentication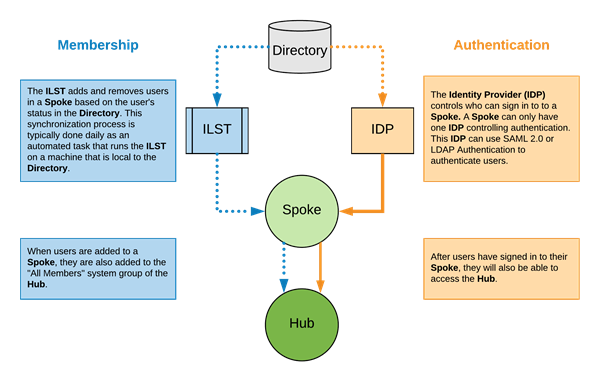 Workplaces within a Networked Enterprise still manage their own membership, usually with the ILST. However, since a member can be a part of many workplaces, adding or revoking them from one can have additional effects. Common membership changes and their effects include: 
Adding a member to a spoke:  Adds the member to the spoke and the hub.
Revoking a member from the hub: Removes the member from the hub and all spokes that they were a member of.
Revoking a member from a spoke: Removes the member from that spoke only.
As a result of these behaviors, all users within a Networked Enterprise are always members of the hub.
Signing into either the hub, or a spoke, creates an Igloo Session. With an active session, the user can navigate to other workplaces within the Networked Enterprise without signing in again. Access and their membership will still control what they can see and do in these locations.
Networked Enterprise setup
In this example, each spoke uses its own Directory, ILST, and IDP. A user's membership is directly synced to their spoke, and they must authenticate with their spoke before being able to access the hub. Some content creators and administrators may be given credentials to sign in directly to the hub in order to manage enterprise-wide collaborative resources.
Tip: Syncing members directly to the hub should be avoided. Using multiple ILSTs to sync to a single workplace can cause conflicts in which members get added or removed. This is avoided by using separate ILST syncs for each spoke. With this setup, if a user is revoked from a spoke, they also must be revoked from the hub.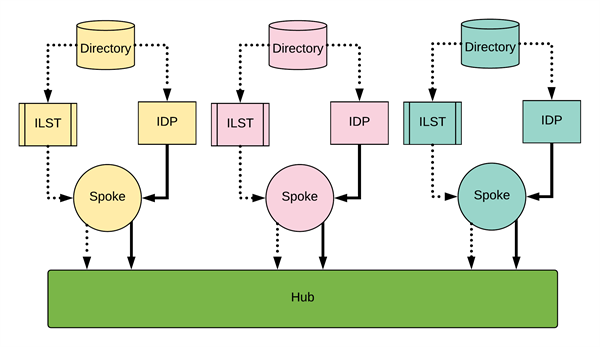 1,288

views

0

previews

25

versions
Avg. Rating:

Updated By:

Jesse Langstaff

August 17, 2021

Posted By:

Jesse Langstaff

January 31, 2019

Versions:

v.25
---