What is it?
The Poll Widget lets you pose a single question to your digital workplace, and collect people's responses. Place a Poll Widget on a Page or Space to allow users to respond to questions with single or multiple answers. Once users submit their answers, they will see the current tally of votes and not be able to vote again. Data on the poll results can be exported in CSV format.
Use Cases
The Poll Widget is a great way to gather opinions from your users.
Multiple Poll Widgets can be used on a single Page or Space, each asking your users questions about different topics. For instance, you may have a Poll Widget asking what event would be preferred for a team building exercise, and another poll asking your user's opinions on how helpful they find the digital workplace structure.
Poll page
You can use multiple Poll Widgets on one Page to gather feedback. Each Widget will only allow one question and answer response, but using multiple Widgets together on one page creates a connected experience.
Social poll
Gather votes on where to hold an upcoming social event by using a Poll Widget on the homepage, allowing everyone in the company to choose from a list of options. Giving members a feeling of involvement will boost engagement within the digital workplace. Don't forget to announce the results when you are finished. If users aren't voting, you can send them a message to remind them their vote is important.
Features and functionality
When creating a poll Widget, the following options are available:
Options
Title - This name is displayed above the content of the poll. It can be left blank or contain up to 140 characters.
Description - This text is displayed below the title and above the content of the poll. This field can be left blank.
Question - This text contains the question that you want to ask. This section is mandatory and can contain up to 250 characters.
Answers - To allow users to select just one answer, choose, Single. If you would like to allow members to select more than one answer, select Multiple. When you create a poll, at least two answers must be provided, and answers cannot be greater than 250 characters. To add additional answers, select the Add Another option. To remove an answer, select the "x" that appears next to its name.
Expiry date - The current date is shown as the poll's expiry date by default, but this is only placeholder text. If you want to add an expiry date to your poll, select this text box and choose a date from the calendar that pops up. To remove an expiry date that has been set, select the Remove button that is visible when a date is in effect. Users cannot vote once an expiry date has passed.
Show content to - This section determines who the poll is visible to:
Everyone - Visible to all members and anonymous users if the digital workplace is public.
Members only - All members can view the poll.
Non-members only - Only people who are not signed in to the digital workplace can see the poll. Your digital workplace must be public to choose this option.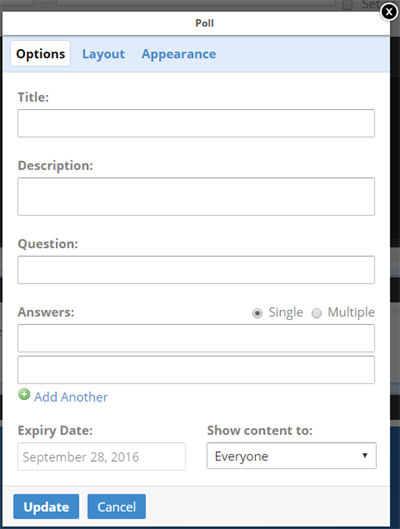 Layout
Currently, there are no customization options in the Layout tab.
Appearance
See the Widgets article for more detail on the appearance tab.
Exporting data
Once the poll has received responses an Export Data option will appear at the bottom of the poll's Options tab when editing the Widget. Only Site Administrators can export Poll data.

To download a CSV file to your browser's default download folder, select Export Data This data file will contain a tally of votes as well as a list of which users voted, and what they voted for. To remove information about how users have voted you must unselect the Polls option located in your Control Panel's Global Settings.

Note: Even if polls have been set to not export user information, that information is recorded. Polls in Igloo cannot be truly anonymous.
Workplace member voting
Users can vote in a poll by selecting the radio button next to the answer they wish to submit. If the Multiple answers option has been selected for the poll, users will be able to select check boxes next to each of the answers they wish to submit. After voting, the Poll Widget will display the current results of the poll. These results can also be viewed before voting by selecting View Results which appears next to the Vote button.

General functionality
At the bottom of the Poll Widget edit tool, there are the options to Update and Cancel. Update will save and apply all changes that you have made whether they have been made in the Options, Layout and/or Appearance tab, and then close the Poll Widget edit tool. Cancel will close the Poll Widget edit tool without saving or applying any changes that were made.
The contents of the Poll Widget can be refreshed by selecting the curved arrow found on the Poll Widget title bar while in Page Edit mode.
To remove a Poll Widget from your page, select "x" on the far right side of the title bar while in Page Edit mode. The Poll Widget will be removed from the page and all settings that were associated with it will be lost.
How to add a Poll Widget
Follow the steps below to add a Poll Widget to a Page or Space in your digital workplace.
Step 1: Open the Action Menu
In the top right corner of your page or space there is an icon that looks like a downward pointing triangle. Select it.
Step 2: Select Edit
After you select the Action Menu icon, your Action Menu will appear. Select, Edit from the list of options.
Step 3: Select and drag the Poll Widget from the Add Widgets section to the desired location on your page.
Locate the Poll Widget in the Add Widgets section and drag and drop it onto your page.
Frequently asked questions
How do I clear a poll's response data?
To clear a poll's response data you must remove the poll widget from the page. You can then add a new poll widget back to the page and configure it with a new or similar question. Be sure to download the poll's data before doing this as the response data will be lost once the widget is removed.
Does modifying a poll clear any response data?
Removing a poll option will result in its data being lost. However, modifying other features of an existing poll will not clear any response data that has already been collected.
How do I have more than one question in a poll Widget?
Poll Widgets are meant for simple, single question surveys. For more complicated polling, such as a multiple question survey or questions that require text to be entered, an alternative would be to embed a survey from an external platform into an HTML Content Widget.
Can I make poll responses anonymous?
A feature of digital workplaces is that user activity is recorded. If you need an anonymous survey or form, consider using a third-party service for the form and embedding in an HTML Content Widget.
4,661

views

0

previews

14

versions
Labels:
Avg. Rating:

Updated By:

Jesse Langstaff

June 30, 2021

Posted By:

Matthew Seabrook

September 4, 2017

Versions:

v.14
---