Resetting a member's Igloo password
Resetting a member's Igloo password
Administrators can trigger a reset of a member's Igloo authentication password from the Manage Members page of a digital workplace. Doing this will send an email to the member asking them to reset their password using the provided link within the next 24 hours. This feature is often used when a digital workplace uses LDAP or SSO authentication and a member is unable to reset their Igloo password themselves. This process only offers a way to reset a members Igloo password, not their SSO or LDAP password.
Requirements for resetting a member's Igloo password
Only Workplace Administrators and groups with the Revoke Members or Manage Member Groups roles can reset a member's Igloo password.
The member is able to access mail sent to their account's email address.
How to reset a member's password
Click the Cog on the Userbar to access the Control Panel.
Select Manage Members from the Control Panel.
Locate the member in the member list found the Manage Members page.
Click the Actions Button located next to the member's name.
Select Reset Password from the Actions Menu.
Select OK  when prompted to confirm this action.
Result of resetting a member's Igloo password
After confirming to reset the member's password a notification will pop-up on the bottom right-hand side of the screen. The message indicates that the email has been sent.

The member will receive an email with the subject "Request to reset your password", and containing a link to reset their password.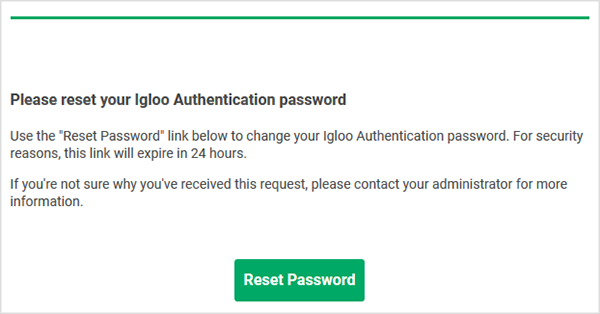 2,514

views

0

previews

13

versions
Labels:
Avg. Rating:

Updated By:

Jesse Langstaff

August 17, 2021

Posted By:

Jesse Langstaff

November 19, 2018

Versions:

v.13
---