What is it?
The Follow feature is essentially a request to be notified via email when a channel or item on a channel is updated.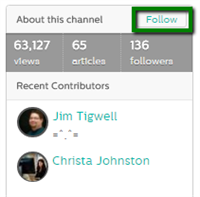 Features and functionality
Set how often you'd like to receive notifications by selecting Following at the bottom of the page. Your options are: Instant, Daily, Weekly, or Monthly.
Following a channel will provide you with email notifications when anything is added to that channel.
Following an individual post or file will provide email notifications when that post is modified or commented on.
Note: by default, you automatically follow anything that you post or comment on. See Subscriptions for details on how to adjust that.
If you have Write Access or above on a channel or piece of content, you can click on the number under Followers in the statistics box in the right-hand column to see a list of who has subscribed to that content. It also displays the date that they subscribed.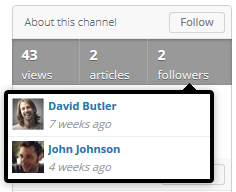 How to use the Follow feature
There are two ways to follow content, Select Follow at the bottom of the page or to the right of the content item.
Step 1: Navigate to the channel or article
Navigate to the channel, post, or file that you wish to follow.
Step 2: Follow the content
Once you find the content you would like to follow, you can choose the Follow option on the right-hand side or beneath the content.



Step 3 (Optional): Set frequency
Scroll to the bottom of the page to choose from additional Follow features. Here, you can choose to follow instantly, daily, weekly, or monthly.

Frequently Asked Questions
I am following the content and I selected weekly updates. It's been a week, why haven't I received my notification?
The counter doesn't start counting down until content has been posted.
Why don't I see an option to follow my channel?
You may not be on a channel. Pages and spaces do not have a follow option and can be constructed to look a lot like a channel. You can be sure you're on a channel by clicking through to one of the articles, and then using the Breadcrumbs to navigate up to the channel it's in.
I have followed a Folder Channel, why am I not receiving any notifications on items within sub-folders?
Sub-folders within a Folder Channel need to be followed separately from the Folder Channel itself. Following a Folder Channel, does not result in a subscription that cascades to subfolders in the channel.
3,386

views

0

previews

14

versions
Labels:
Avg. Rating:

Updated By:

Jesse Langstaff

June 29, 2021

Posted By:

Matthew Seabrook

September 4, 2017

Versions:

v.14
---