Hide "Send Message" Enhancement
Overview
The Hide "Send Message" Enhancement hides all instances of sending Messages, and the Messages page. This Enhancement hides the Messages feature in the following locations: 
Userbar
Member Directory
Members Widget
Profile Card
Profile View
Messages link in profile navigation
(Optional) Feedback link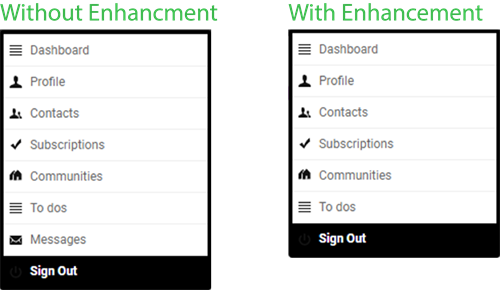 How the Userbar Menu appears without and with this Enhancement.
To investigate whether this Enhancement is a good fit for your digital workplace, contact your Customer Success Manager, or email the Customer Success Team. If your workplace already has this Enhancement, you can find configuration steps on your Styles page. 
Considerations and caveats
Keep in mind the following when using the Hide "Send Message" Enhancement:
CSS can unhide Items.

The Messages page is accessible using its URL.

 
If a user gets a message, they also receive a notification email with a link to the message.

Messages/Send Messages are still visible when in the Control Panel and other admin pages.
Configuration options
There are no configuration options. However, you can request to have this also hide the Feedback link that appears at the bottom of most pages in a digital workplace.
194

views

6

previews

3

versions
Labels:
Avg. Rating:

Updated By:

Jesse Langstaff

June 29, 2021

Posted By:

Jesse Langstaff

September 28, 2020

Versions:

v.3
---