|
Wall of Same - New Addition to the Campaign Library!
Have you ever showed up to work wearing the same thing as a fellow employee? Don't be embarrassed—embrace it! The "Wall of Same" campaign takes an ordinary "whoopsie" and turns it into an opportunity to build culture and engagement.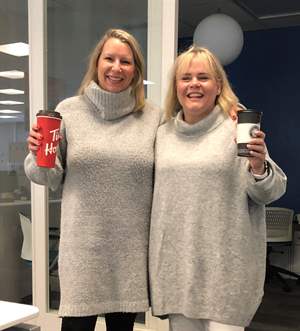 Every organization can benefit from an engagement campaign that builds morale, positivity, and celebrates togetherness. That's what the Wall of Same campaign is all about! 
How does it work? 
This campaign is easy to set up and easy to manage, which makes it a great option for organizations looking for simple ways to drive engagement and build corporate culture with limited resources and budget. 
Step 1: When you see employees dressed similarly (You might be surprised by how often this actually happens!), snap a photo, and save it to a "Wall of Same" folder in your digital workplace. Preferably in your Social Center or other area dedicated to social planning. 
Step 2:  In your social area, post the photo and @ mention the people in the photo. 
Step 3: Let the comments roll in!  
Check out the full details about best practices for implementing this campaign or explore other recommended campaigns in our Campaign Library.
---