What is it?
The RSS Feed widget allows you to display RSS feeds from external websites, in your intranet digital workplace.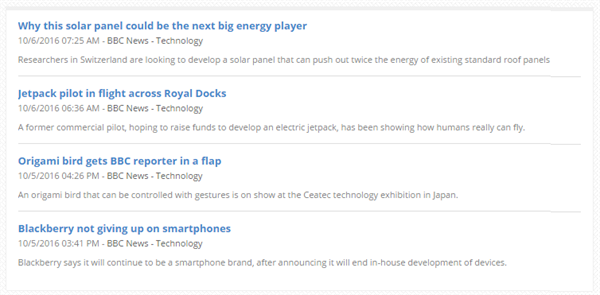 Use Cases
Website RSS feed
If your website contains an informative RSS feed that you would like people in your workplace to review regularly, you can use an RSS Feed widget on your workplace news page to display the content. Now, workplace members can easily access all the information they need to know about your organization without leaving your intranet.
Weather forecast
Use an RSS Feed widget to bring a weather channel into your workplace. Members can get a quick glimpse of what the weather is like at their location - or if you have multiple locations add an RSS weather feed for each one.
Features and functionality
Below is a list of all additional features found within this particular feature. Select each item below to read more.
Options: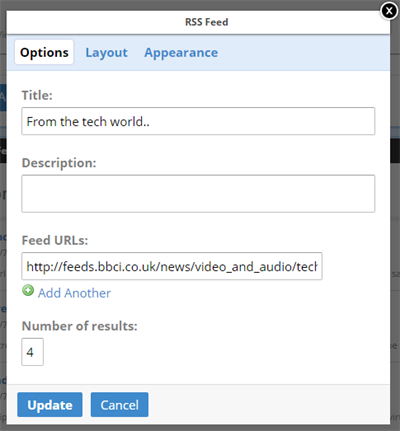 Title - Give your widget a title using this feature.
Description - Provide a brief description of the widget using this feature.
Feed URLs - This feature allows you to select the RSS feed URL(s) to be displayed on the widget.
Number of results - Choose the number of results to be displayed in your widget, using this feature.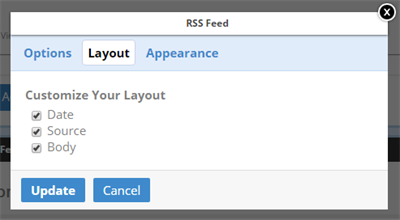 Date - This feature displays the date of the RSS feed.
Source - This feature displays the source of the RSS feed.
Body - This feature displays the RSS feed content.
Appearance - You can configure the appearance of the widget, including the CSS class, using this feature. For more information on widget appearance see the Widgets article.
How to deploy a RSS Feed widget
Refer to the Widgets article for instructions on how to add the RSS Feed widget to a page in your workplace.
1,200

views

8

versions

1

follower
Labels:
Avg. Rating:

Updated By:

Jesse Langstaff

May 6, 2019

Posted By:

Matthew Seabrook

September 4, 2017

Versions:

v.8
---