Your organization must be subscribed to Igloo's Gadget Depot to use gadgets in your digital workplace. Contact your Customer Success Manager or email the Customer Success Team to subscribe to the Gadget Depot to get access to all available gadgets.
Gadgets are focused on promoting communications, encouraging interaction, and increasing efficiencies. You can place gadgets on any dashboard, page, or space in your digital workplace and then configure them to customize their functionality.
Sections in this article:  
---
Setting up gadgets
You set up gadgets in a way similar to widgets (see, Placing and setting up a widget). However, instead of selecting a gadget directly from the widget carousel, select the Integrations widget. When editing the Integrations widget, select the Igloo Gadget Depot; then select the gadget that you want to configure. For information about gadget-specific configuration options, refer to the options below.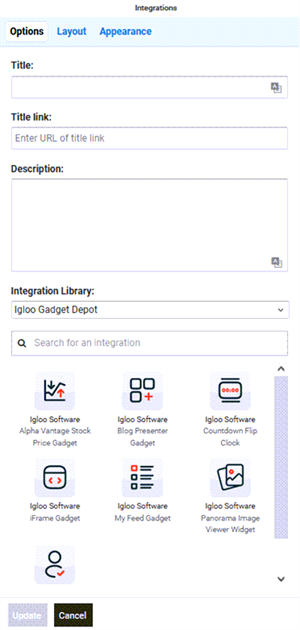 ---
Available gadgets
| Gadget | Usage |
| --- | --- |
| Blog Presenter | Display blog posts in a dynamic and interactive banner. |
| Flip Clock Countdown | Display a countdown to important dates or upcoming events. |
| iFrame | Embed iframeable content in your digital workplace. |
| My Feed | Provide your users with a personalized feed of content based on their channel subscriptions. |
| Panorama Image Viewer | Display interactive panorama images. |
| PDF Galleria | Display multiple PDF files at once in a configurable carousel of PDF thumbnails. |
| Profile Completion | Display user profiles with a dynamic completion indicator that shows exactly which profile fields are complete and which they need to fill out. |
| Stock Price | Display the price of a configured stock as of market close on the previous day. |
---