Offline
Some advice on adjusting your digital workplace in changing times.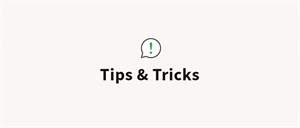 There are really only two kinds of change. Sometimes you change your circumstances, and sometimes you adapt to accommodate them. And in a contemporary climate where we're all adapting as best we can to these new conditions, we're finding that having a digital workplace is more vital than ever. As organizations transition to working from home, communicate new policies and processes to members, and work together through this, it can expose gaps in existing digital workplace practices that can…
Read more...
---
Offline
Igloo's Design Team has created a free "Work From Home" image repository which will allow your digital workplace to reflect the new work, home and lifestyle reality of your employees.
At Igloo, we know that the world of work is changing, and your digital workplace should reflect that. Appropriate imagery is the best way to communicate meaning and our free "Work from Home" image repository will save you spending needless hours searching for the perfect picture to accompany your communications. 
The photo above is from Igloo's Work From Home Image Repository:   Work Spaces - Slider - Spaces-Slider6
Igloo's free "Work from Home" image repository (140 images in total!) is…
Read more...
---
About this channel
36,261

views

59

articles

3782

followers
Get the latest news & updates happening within the Igloo Playbook.
---