OneDrive for Business Integration
What is it?
The OneDrive for Business Integrations widget provides a portal into your existing personal OneDrive files from within your digital workplace. Through it, you can view, add, and download files in OneDrive.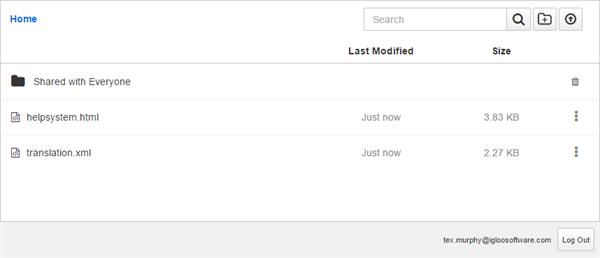 Features and functionality
The OneDrive for Business integrations widget provided many of the features available in the OneDrive web interface.
Search - You can search files and folders in your OneDrive through the search bar in the widget.

Add folders - You can create and name new folders and sub-folders through the widget.

Upload files - You can upload new files to any location in your OneDrive.

OneDrive cannot transfer files directly to Igloo, nor can Igloo transfer files to OneDrive. You will need to download the files and then upload them in the other system if you need to move or copy them.
Authentication
Members must sign into the widget using their Azure organizational email and credentials.
The ellipsis menu
The rightmost column of the file listing in the widget contains an icon with three dots. Selecting it opens a menu with additional features.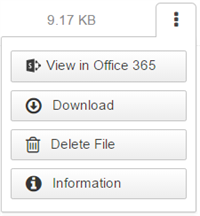 View in Office 365 - selecting a file name or selecting View in Office 365 will open a file in the O365 web interface.
Download - Selecting Download will save the selected file to your computer or device.
Delete File - Selecting Delete will remove that file from OneDrive as if deleted from within the standard OneDrive interface.
Information - Selecting the information button will open a small box with details on the file like the author, size, and its online location.
Limitations
The OneDrive integrations widget is not able to show files or folders that have been shared with you from others' OneDrive.
How to add a OneDrive Integrations widget
1. Add a widget
Add an integration widget to your page.  
2. Select OneDrive for Business from the list of integrations
Click the Edit button on the integration widget you just placed. While on the Options tab, select the OneDrive for Business icon.
Unless you would like to further customize the setup of the OneDrive integration widget, you can publish the page. When a member attempts to log in to the widget with their organizational email the widget will detect the appropriate settings for the member.
3. Optional - Set the Tenant ID
The Tenant ID is a unique ID that identifies your organization's subscription to Azure. For most organizations using the default value of common should be sufficient to use this widget. Refer to Microsoft's article, Find your Office 365 tenant ID, for instructions on locating this value.
4. Optional - Set the Initial Folder Path
By default, this value is "/". To display a specific folder and its contents enter the name of that folder. Only subfolders within your personal view can be included and you do not need to include the full path. Only the path of the subfolder is needed. For example, use "/Legal" to only display your Legal folder and its contents.
5. Optional - Configure advanced options
API Base URL - This is the domain for your OneDrive instance, and is the same URL you would use when trying to access the repository in your browser. For example https://mystorage-my.sharepoint.com. If this option is not specified Office 365 SharePoint will automatically select an API Base URL based on a member's credentials.
Drive ID - This setting is currently in place for future functionality and can be ignored. The Drive ID is typically the SMTP address of a member.
Show the admin consent login link - If this is your first time setting up an instance of this integration, you may need your OneDrive admin to sign in using this link to approve the use of this integration. You can then disable this link. 
Enable View in Office Online - Enable the option for files to be viewed in Office Online.
Enable Auto Height - The widget will automatically adjust its height to match the folder content.
Show search - Displays a search bar within the widget,
Show Last Modified By - Makes Last Modified By column in file list visible.
Show Last Modified - Makes the Last Modified column in file list visible.
Show File Type - Makes the Type column in file list visible
Show File Size - Makes the Size column in file list visible
2,329

views

0

previews

17

versions
Labels:
Avg. Rating:

Updated By:

Jesse Langstaff

June 16, 2021

Posted By:

Matthew Seabrook

September 4, 2017

Versions:

v.17
---