What is it?
Contacts are members of your digital workplace that you have connected with. Adding a contact makes it easy to access someone's profile, and permits you to easily send a message to someone without having to search through the entire member's directory to find them. You can also modify your Privacy settings to display portions of your profile only to contacts.
To add a contact, you must first send the person you want to add a request. The person receiving your request will get a notification on their userbar. The Contacts quicklink on your userbar shows the number of pending contact requests and allows you to accept or ignore the most recent requests.
Use Cases
Create a Profile that can only be seen by your contacts
You can change the privacy settings to Contacts so only your contacts are able to see information saved in your profile. With this feature enabled, you can add whatever you like to your Profile and feel reassured that you alone controls who sees it.
Features and functionality
Below is a list of all additional features found within the Contacts page.
Link to requestor profile - Select the contacts profile image to bring up their profile page.
Accept contact request - People have the ability to send you a request. If you accept someone's request, you will become contacts and be added to each others' contacts list.
Ignore contact request - If you ignore someone's request to connect, you will not be added to each other's contacts list.
Send Message - You can easily send a message to a chosen contact by selecting Send Message just below the contact's name.
Remove Contact - You can remove someone as a contact at any time by selecting Remove Contact just below the contact's name.
How to accept or reject a contact request
Building a contacts list provides an easy way to access someone's profile and send them messages. See below for instructions on how to add or ignore contact requests.
Step 1: Select the contact request icon
If you receive a request, a number will appear on the Contacts icon in your userbar.
Step 2: Select, Accept to make the requestor a contact
The window that appears when you open your contact request gives you the option to Accept or Ignore a request. Select, Accept to add the requestor to your contacts.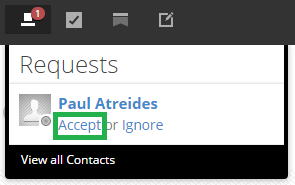 Step 3: Select Ignore to remove the request.
If you do not wish to add the requestor to your contacts, select, Ignore.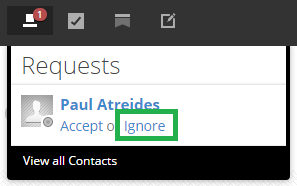 Frequently Asked Questions
Why do I not see the Contacts icon?
The icon will only appear if you have pending contact requests.

---