|
Working With Widgets: Integrations
A brief guide to using the Integrations Widget effectively.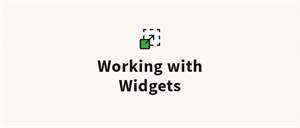 The Integration widget is easily the most powerful tool your digital workplace has to offer. It can connect to a variety of other services, and bring them directly into your digital workplace. The Integration widget lets you use your Igloo as a single pane of glass, giving members a central area to view your full app ecosystem. More than that, each widget can be adjusted to show specific areas of each application, ensuring that people have access to exactly the folder, channel, or opportunity that's relevant to the part of your digital workplace they're in. 
Integration widgets have applications in every stage of your digital transformation. Prior to migrations, use it to have easy access to your files in Sharepoint, OneDrive, or Google Drive. Afterward, add a Slack connector to coordinate on the migration project. As files move from your external sources to Igloo, use the Multi-service Search integration to ensure that they're being cleaned up from old locations and added to the new ones in your digital workplace. 
Services
Once added to a Page or Space, the Integration widget lets you select from a repository of services. The widget uses the OAuth 2.0 standard to authorize people, which means that Igloo never has access to the credentials to the service. Members connecting to say, Slack or Sharepoint will use their own credentials, making sure that they only have access to items they'd be able to access in the service directly. For any integration widget, individual members will connect to the service and authorize it on their first time visiting the page, using the Sign In option. This creates a token that's valid for thirty days. After that, they'll need to authorize it again. 
While the authorization is in place, members will be able to use the widget to the fullest, including creating calendar events in Office 365, downloading files from Google Drive, and chatting with team members on Slack. 
Configuration
The Integration widget is designed to work out of the box, and will immediately attempt to connect to the available service if the service allows it. Integrations like Slack, Google Drive, and Office 365 will connect automatically if the widget is authorized and the member on the page has an active session. Some integrations, like Salesforce and Workday, have specific clients that need to be connected to, and will require additional setup on the service side. And in addition to the basic configurations, every integration offers an array of Advanced options specific to the service, letting you customize and control how your members use it. 
Troubleshooting
Because it's linking two separate services, the Integration widget relies on an authorization process. It's sort of a handshake. And if anything goes awry during that handshake, the widget won't be able to pull in the content correctly, and might not be able to access the service at all. In cases like this, the most important thing to do is identify where in the authorization process the issue is happening, and address it there. This may require adjustments to the widget settings, or setting changes in the service it's connecting to. As always, if this happens, submit a ticket to Igloo Support, and we'll work through the issue with you. 
The Integration widget has become an essential part of the digital workplaces its deployed in, and a huge step toward unifying your members' ability to access your app ecosystem. It's one more step on the road to making sure people can find everything they need in your Igloo. 
You can find more information on the integrations available in the Igloo Marketplace, and if you have any other questions about the Igloo platform, workflows, or best practices, you can leave a comment here, or ask a question in the Community area.
---