|
Lighthearted Engagement During Stressful Times
Many organizations have staff working remotely during the current pandemic and managers are wondering how to keep them engaged. When times are tough, surprise employees and engage them with a fun, light-hearted campaign.
Igloo's very own social committee, the ICE Squad, developed this campaign during the 2020 pandemic to encourage connection between employees while working from home. It can be run for several weeks in a row and is meant to ease the tension during a stressful time.
Introducing, Igloo's New Oh Baby! Campaign!
Here's how we did it!
Start with a few members of your social committee and collect 5 baby or toddler photos.
Create a new campaign page. 
Add five HTML widgets, one for each photo. 
Create a poll under each photo and add a few extra names to make the contest a bit tougher.
Announce the contest on your homepage and let the fun begin! 
Include information like the timeline, the number of times the contest will be run, request executive participation etc. Make the contest your own, and have fun! Below is a photo of our own contest page: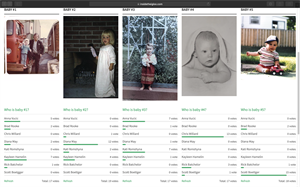 Remember, it's times like these when it's paramount to stay connected with your employees; for more fun campaigns to engage your members, visit Igloo's Campaign Library.
Igloo on...
---