Managing your push and instant subscription email notifications in the app
Configure your push and email notifications settings for @mention and instant subscription notifications. These notifications will still appear in the app. Using these options, you can customize how you stay notified about activity in your digital workplace.  
Considerations and caveats
Push notifications (if enabled): After signing out of the app, you will not receive push notifications. However, if you terminate the app without signing out, you will still receive push notifications.
Email settings for 

@mention

 and instant subscription notifications: You can also manage your email notification settings for

@mentions

and instant subscription notifications from your Subscriptions page. Your digital workplace keeps these settings in sync between the app and the browser experience, so changing one of these settings in one location also changes it in the other location.
Broadcasts: Push notifications for broadcasts cannot be turned off from within the app. To disable these, you must disable notifications; this will also result in new broadcasts no longer appearing in the app's notification feed. 
How to manage your push and instant subscription email notifications in the app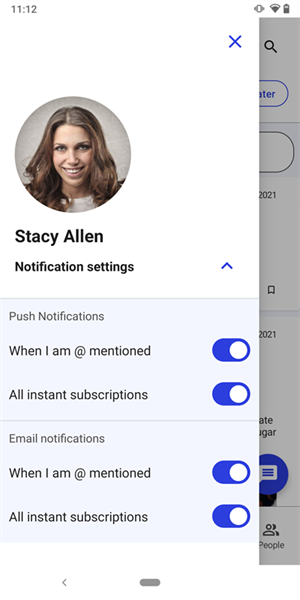 Tap your Profile Photo in the upper left corner of the screen.
Tap the Notification settings.
In the Push Notifications section, toggle each push setting by tapping its slider to the left (disabled) or right (enabled).  You can control push notifications for the following types of notification:

When I am @ mentioned
All instant subscriptions

In the Email Notifications section, toggle each email setting

by tapping its slider to the left (disabled) or right (enabled). 

You can control push notifications for the following types of notifications:

When I am @ mentioned
All instant subscriptions
1,247

views

0

previews

14

versions
Avg. Rating:

Updated By:

Jesse Langstaff

February 16, 2023

Posted By:

Jesse Langstaff

June 26, 2019

Versions:

v.14
---