Recommended Search Results
Recommended Search Results
Recommended Search Results give you the ability to surface digital workplace content prominently in search results based on specific keywords. These keywords are placed on content by workplace administrators, and when a user in your workplace performs a search that contains the keyword, the matched content will appear at the top of the search results list with a Recommended label. Content that matches multiple keywords will be featured above content that matches fewer keywords. For example, placing the keyword of "wireless" on a wiki article that contains instructions on how to connect to the office's wireless network ensures that the article will appear at the top of search results when the search term contains "wireless". Effectively applying keywords to important content helps to reduce the amount of time users spend looking for the information they need to be productive.
Note: Recommended Results are displayed in Userbar quick search results, in the Unified Search Widget, on the search results page, and on the mobile app's search results page.
Search page
Content and their associated keywords are displayed and configured from the Search page found on the Control Panel. Changes made to content names may take up to two minutes to be reflected on this page.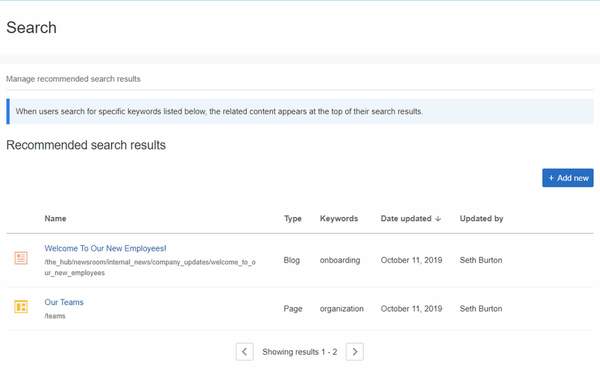 Content support
Users, Microblog Posts, and Specific Tasks cannot have keywords associated with them.
Applying keywords to content
Learn how to apply Recommended Search Results keywords to content in your digital workplace.
Best Practices
Check out these best practice articles to set your Recommended Search Results strategy up for success.
1,188

views

8

previews

34

versions
Labels:
Avg. Rating:

Updated By:

Jesse Langstaff

November 14, 2019

Posted By:

Jesse Langstaff

October 8, 2019

Versions:

v.34
---