Recent Contributors Widget
What is it?
The Recent Contributors widget displays members who have recently contributed content to specified channels within the site. Other members can see the names and link to the contributing members' profiles.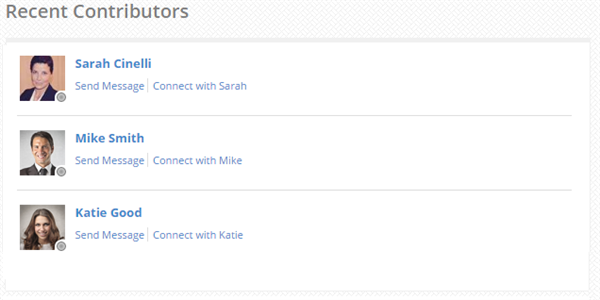 Use Cases
Your digital workplace likely has a news area where many people contribute content on a regular basis, and you can use a Recent Contributors widget to showcase those writers. Use this in conjunction with a Blog widget on a space to display an overview of news and contributors.
Features and functionality
Below is a list of all additional features found within this particular feature. Select each item below to read more.
Options: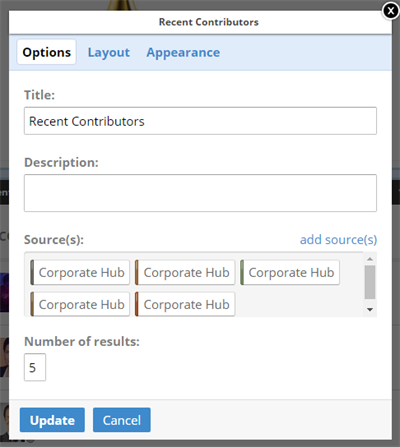 Title – Give your widget a title using this feature.
Description – Provide a brief description of the widget using this feature.
Source(s)– Choose the selected source channels for the content to be displayed.
Number of results – This feature allows you to select the number of results to be displayed, starting from the most recent results.
Add source(s) - This feature allows you to select the content sources to be displayed on the widget. It also allows you to browse and select different types of channels on the site. When deploying this widget, you can only select channels that members have a minimum of Read access for.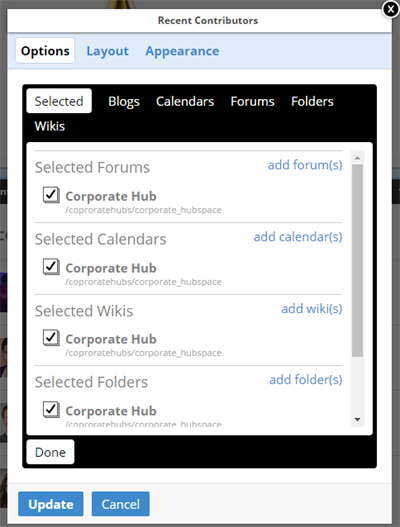 Layout
The layout of the widget can be configured using this feature.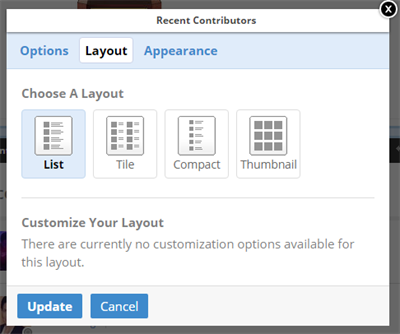 Choose a layout - This feature determines the way the widget is presented.
Appearance
Configure the appearance of the widget, including the CSS class, using this feature. For more information on widget appearance, see the Widgets article.
How to deploy a Recent Contributor widget
Refer to the Widgets article for instructions on how to add the Recent Contributor widget to a page.
Best practices/ Tips and tricks
Member profile access
If member profile access within the Public/Private Access tool is set to Administrators Only, then users will be able to see the contributors, but will not be able to view the profiles of the contributors.
391

views

7

versions

1

follower
Labels:
Avg. Rating:

Updated By:

Jesse Langstaff

May 6, 2019

Posted By:

Matthew Seabrook

September 4, 2017

Versions:

v.7
---