What is it?
Applying a Points and Status system to your digital workplace can help boost user engagement. Workplace Administrators can configure status levels, assign point amounts for certain activities, and create custom badge icons.
Points can be awarded as Administrator-given Badges, and for interacting with and creating content. Milestones can be set which apply a tiered level system to points earned.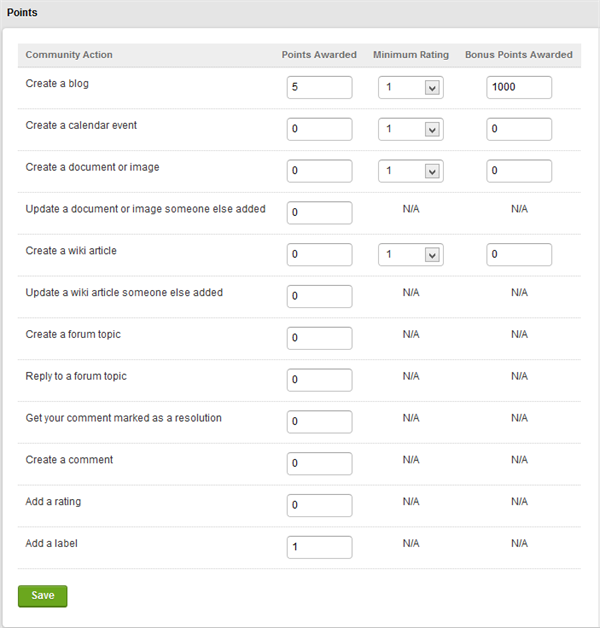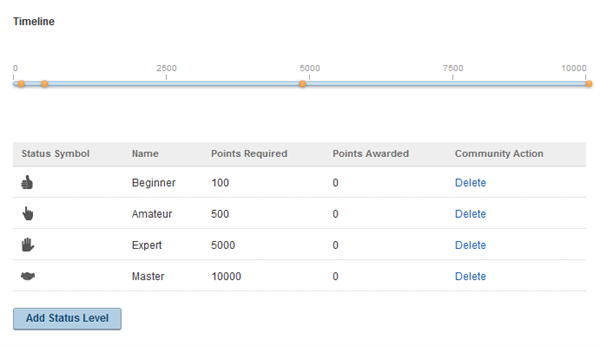 You can view your current Status Level and total Points on your Profile page.
Use Cases
The Points and Status feature adds a gamification element to your workplace meant to encourage participation. A well-designed system should reward people for contributing to the workplace, and have Status Levels that have an increasing amount of points required to obtain the next level.
Features and functionality
Our platform is simple and intuitive but that doesn't mean its capabilities are limited. There are a number of ways you can configure our platform to do exactly what you want. Below is a list of all additional features found within this particular feature or function.
Badge and Status Level sprite sheets
You can create custom Badge or Status Level icons and upload them to your workplace. If you would like to create your own icons, the following sprite sheet requirements must be met:
+ 24-bit PNG file with a transparent background
+ 1st row: 16x16 pixels
+ 2nd row: 24x24 pixels
+ 40 icons maximum
The default sprite sheet, available to download within your workplace, is shown below.

To upload a sprite sheet, navigate to the Configuration section of Points and Status and select Choose File to upload your sprite sheet. You can upload a separate sheet for Badges and Status Level (also referred to as Milestones), however, the default sprite sheet is the same for both. Be sure to select the green Save option to apply your new sprite sheets.

Add a Status Level
To add a new Status Level, select the Add Status Level option in the Status Levels section on the Points and Status page. A dialog box will pop-up allowing you to set the badge icon, title, points awarded for earning that Status Level, and the number of points required to achieve that status level. All of these fields are mandatory though you can leave Points Awarded at "0". To confirm the creation of your new Status Level, select Add Status Level.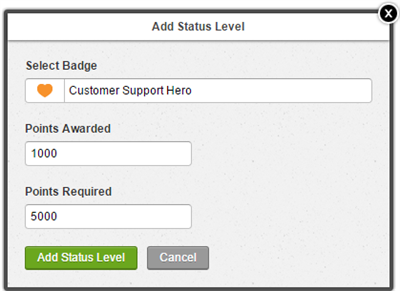 The progression of Status Levels in your workplace is plotted out on the Timeline. The light blue areas correspond with points required to reach a Status Level, orange dots represent where a Status Level is, and dark blue areas correspond with points added by reaching a new Status Level.

Edit Points for workplace contributions
Administrators can set how many Points are awarded for contributions to the workplace, under the Points section. Points are accumulated by people in your workplace and are used to award Status levels. In addition to setting what actions award Points, a minimum rating can be configured for some forms of content. If a person's content rating exceeds this minimum rating, additional points can be rewarded.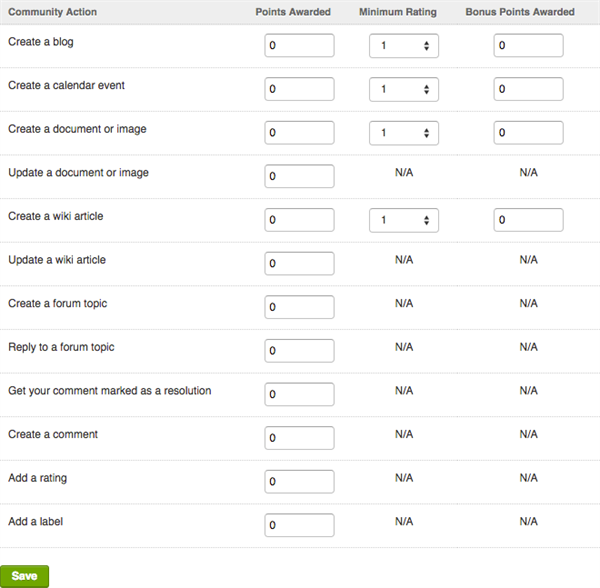 Give a Badge
Administrators can award users a badge independently of the Status Level framework of the workplace. Badges can be given at any time, with a custom title and number of points. To give a badge to a person in your workplace, navigate to their Profile Page, select Achievements, and select Give Badge. Use the drop-down selector to choose the image for the badge, give it a title, write a message, and assign a point value. Selecting Invisible will make it so that only Administrators and the person who received the badge can see it.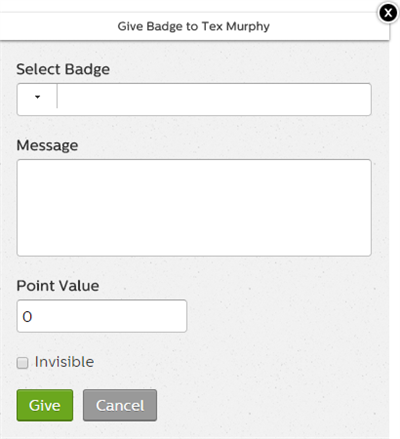 Clear points and status
To clear all sprite sheets, Points, and Status Levels, select the Reset All option. After resetting, you will need to upload new sprite sheets in order to be able to configure other Points and Status options. To download a default sprite sheet template, click the link on the right-hand side of the Configuration section.

How to access Points and Status
Points and Status can be set up to reward participation differently depending on the type of content members contribute to the workplace.
Step 1: Open the Control Panel
The gear-like icon located in the top right corner of your workplace landing page will open the Control Panel.
Step 2: Select, Points and Status
Points and Status is listed under the Membership category in the Control Panel.

Best practices / Tips and tricks
Create a Status Level for people with 0 Points
When setting up your Points and Status system, be sure to create a Status for people with 0 Points. This will give people who are new to your workplace a Status, involving them in the reward system immediately.
Avoid setting the highest level of achievement
When creating status levels, always consider that there may someday need to be a higher level added. Avoid using terms like "Grand Master" or "Emperor" as they leave little room to expand.
1,251

views

0

previews

8

versions
Labels:
Avg. Rating:

Updated By:

Jesse Langstaff

May 6, 2019

Posted By:

Matthew Seabrook

September 4, 2017

Versions:

v.8
---