|
Best Practices: Preparation
Some highlighted best practices from the Prep Stage.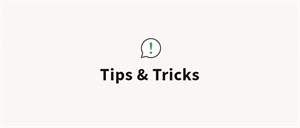 When it comes to your organization's digital transformation, preparation is the key to success. In planning an implementation, Igloo positions ourselves as your partner. We succeed by helping you succeed, and that means making resources available, including a planning framework, key questions, and best practices proven through hundreds of successful implementations. You can find all these and more in the Prep stage of the Playbook. 
Today we'll highlight a few of the essential best practices for preparing your digital workplace, including identifying the business challenges and relevant stakeholders. Strong use cases are the most important part of your digital transformation's value proposition, and will help you set goals and milestones for your Igloo. Similarly, your digital workplace has to meet the needs of your stakeholders to be a success, so it's never too soon to include their voices in your project. 
Build Use Cases
Realistically, assembling use cases is part of building a business case for your digital workplace. Use case best practices focus on finding the audience, the task, and the goal for each use case. For example: 
"As an HR manager at one of our subsidiaries, I'd like to share our employee handbook, containing our policies, such as our 'Work from Home', 'Vacation and Out of the Office' Policies. These policies and information should be relevant/accessible to my subsidiary only, and should not be accessible by other subsidiaries."
This use case picks out the objectives, makes the value of them apparent, and has clear criteria for success. Assembling use cases in the Preparation stage will ensure that they're reflected in your architecture and workflows, and that addressing them is fundamental to your digital workplace. 
Read the full best practice on building use cases.
Identify Key Stakeholders
Stakeholders are any person in your organization whose work will be affected by the use cases of the digital workplace. Undertaking a digital transformation, it's easy to lose sight of this as "everyone", but identifying stakeholders who require more consideration is vital. In the use case example above, storing policies and procedures in your Igloo will significantly alter knowledge management workflows in HR. Everyone doing the work will require training and supporting resources for those workflows. It will also affect where people in your organization go to consult those policies, so it's necessary to notify them of the new location. 
Read the full best practices in making HR a key stakeholder from the beginning. 
At Igloo, we've compiled several indexes of best practices that can benefit you through the various stages of your digital transformation. Each month, we'll highlight several best practices and ensure that the proper support and resources are available to plan, implement, and maintain your digital workplace. We succeed when you do. 
If you have questions about the Igloo platform, workflows, or best practices, you can leave a comment here, or ask a question in the Community area.
---