Google Calendar List View Integration
Version: 15
| Last Updated:
June 15, 2021
by
What is it?
The Google Calendar List View Integrations widget provides a portal into an existing Google calendar, displaying events in a compact list.
Through it, you can view, update, and create events.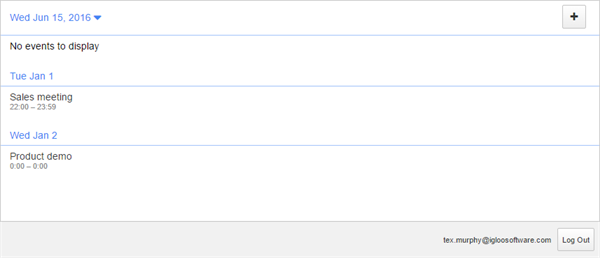 Features and functionality
The Google Calendar integration widgets provide many of the features available in the Google Calendar web interface:
View Events - you can scroll through a list of upcoming events in the displayed calendar.
Jump to date - You can select a specific day to show by clicking on the date in the upper left corner of the widget.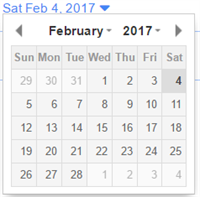 Add events - You can create new events in your calendar by selecting the "+" button.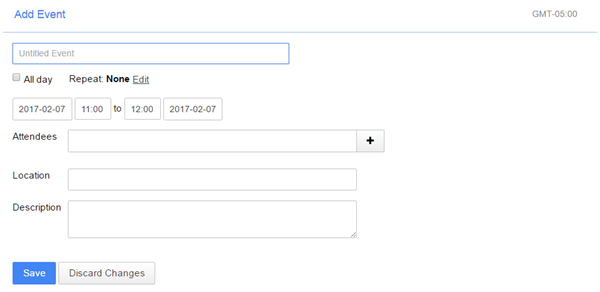 Update events - You can update an event by clicking on its title in the list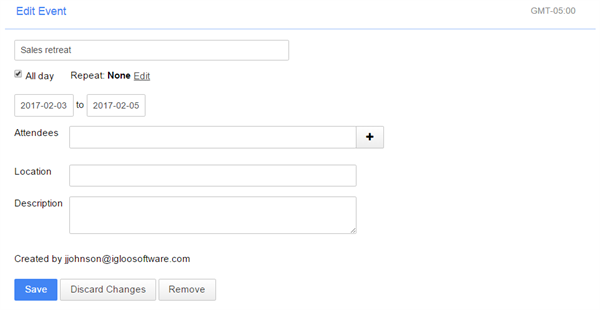 Limitations
Some features of Google Calendars are not supported through the Integrations widget:
- Only English language use is supported in the Google Calendar integration.
- Google Calendar is not compatible with the Igloo mobile app.
- You cannot add or edit attachments.
- You cannot view multiple calendars in a single widget.
How to add a Google Calendar List View widget
Step 1: Add a widget
Add an integration widget to your page.
Step 2: Select Google Calendar List View
Edit the widget and select the Dropbox icon.
Step 3: Enter a Calendar ID (optional)
If you would like the calendar Integration to display a specific calendar when it loads, enter the ID of that calendar in the Calendar ID field. The calendar ID can be found in the Calendar Details in the Google Calendar interface.
If you want to see the primary calendar associated with the logged in user's email, enter "primary"
Step 4: Configure advanced options (optional)
Selecting Advanced Options will expand a list of additional features. You can enable or disable them as appropriate.
Show Attendees - Determines if attendees will be visible when inspecting the details of an event. 
Read Only - Enabling this feature prevents adding and editing events through the widget.
Frequently asked questions
Can I sync my calendar to an Igloo calendar?
Not directly. You can, however, invite an Igloo calendar to an event in your google calendar. See Adding content via email for more detail.
Can I search my Google Calendar through the normal Igloo search feature?
Your Google Calendar cannot be searched by Igloo. Igloo does not have direct access to that information due to security restrictions.
---