Calendar RSVP Export Enhancement
Overview
The Calendar RSVP Export Enhancement adds a Download Attendees link to all Calendar Events in your digital workplace. This Enhancement downloads RSVP information as a text file that contains only the attendee's first and last names.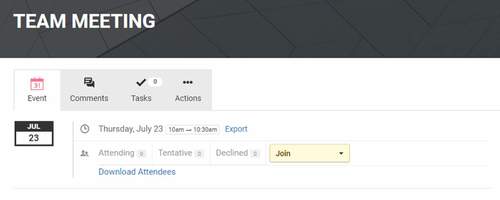 The Download Attendees link appears in the details section of the event.
To investigate whether this Enhancement is a good fit for your digital workplace, contact your Customer Success Manager, or email the Customer Success Team. If your workplace already has this Enhancement, you can find configuration steps on your Styles page. 
Considerations and caveats
Keep in mind the following when using the Calendar RSVP Export Enhancement:
The export will be empty if there are no attendees; the export does not include Tentative and Declined members.
 All users that can view the event can also download the attendee list.
This link will appear on all Calendar Events in a digital workplace.
Configuration options
There are no configuration options.
---