What is it?
The Sign Out button ends the Igloo session in your current browser.
How to sign out of your workplace
Step 1: Open the userbar drop down menu
To open the userbar menu, select your name on the userbar.

Step 2: Select, Sign Out
Selecting, Sign Out takes you out of your workplace and back to the Sign In page.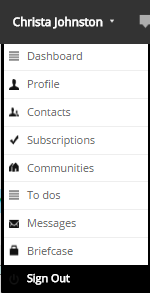 Frequently Asked Questions
Does signing out in one browser end all of my Igloo sessions?
No, only the session in the current browser will end if you sign out.
Can I be logged on at multiple computers at the same time?
Yes.
Does the Sign Out function work with single sign-on?
If your workplace is configured to use SSO via SAML, the Sign Out button can be configured to work with most identity providers to end your active session.
---