Communities - Userbar Menu
What is it?
The Communities section of your profile area displays a list of links to all the digital workplaces of which you are a member. In most cases, you will only be a member of one workplace, but there are cases where organizations create more than one workplace, in which case, you will see them listed here.
How to access your Communities
If you want to see which Communities you are a member of, or move easily from one to another, you can do so in the Communities section.
Step 1: Open the userbar menu
Click on your name in the userbar to open the userbar menu.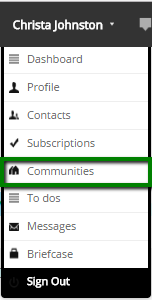 Step 2: Select Communities, from the dropdown menu
From the list provided in the drop-down menu, select Communities.

Frequently Asked Questions
Why is there only one workplace listed?
If there is only one workplace listed, that is because you are only a member of one workplace. Most people will only ever have one site listed in their Communities area.
Is there another way to get to the Communities area?
There is a link to Communities area when viewing your profile. Also, the direct path to the Communities area is consistent and is located at /my.network.
979

views

0

previews

9

versions
Avg. Rating:

Updated By:

Jesse Langstaff

June 24, 2021

Posted By:

Matthew Seabrook

September 4, 2017

Versions:

v.9
---