Dashboards
Overview
Dashboards provide users with curated views of digital workplace content. Administrators can curate content on Workplace Dashboards, while members of a workplace can curate their own Personal Dashboards. 
Dashboards use Widgets to surface content into one central location.
Types of dashboards
Workplace dashboard
Workplace dashboards have the following properties:
Built and maintained by Administrators
Access Rules control who can view
Created using the Site Manager or a Space's Navigation page
For more information about creating workplace dashboards, see Creating workplace dashboards.
Personal dashboard
Personal dashboards have the following properties:
Built and maintained by its owner.
Only viewable to the member who creates it.
Created on the Dashboard page
For more information about creating personal dashboards, see Creating personal dashboards.
Dashboards page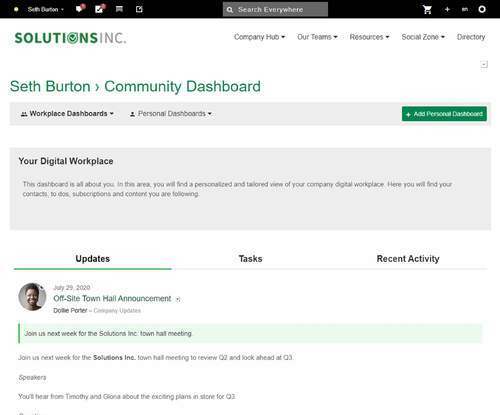 You can find all dashboards that you have access to on your Dashboards page. To access this page, click your name on the Userbar and then select dashboards.
At the top of your dashboards page, you can select which dashboard to view by clicking the dashboard type (Workplace or Personal) and then selecting a dashboard.
Enabling Dashboards
Workplace dashboards must be enabled before personal dashboards can be enabled.
For more information about enabling dashboards, see Enabling dashboards.
Disabling Dashboards
Disabling personal dashboards prevents members from accessing existing personal dashboards and creating new ones. However, it does not delete them.
Disabling workplace dashboards also results in personal dashboards being disabled. However, workplace dashboards will still exist as part of the site structure and can be visited. When workplace dashboards are disabled, the Dashboards option is removed from the Userbar.
---