In the Manage Content section of the User Guide, you'll learn about the options available for managing content within your Igloo digital workplace. 
You'll use this knowledge to improve and enhance workflows as you author and maintain various forms of content in your digital workplace.
File Preview
What is it?
Inline viewing allows you to preview your documents, view images, and display videos from within your digital workplace.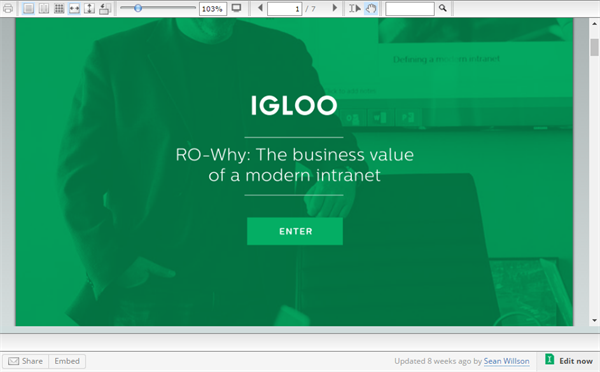 Features and functionality
Previews can be generated for most common file types.
Documents
Most documents that you upload to your workplace will have a preview version automatically generated. When you visit the file, you will be presented with a version of your document that you can view, search, scroll through, and print.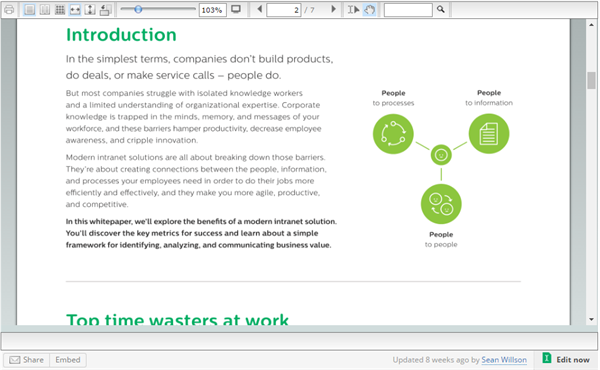 Print - This option allows you to print the document.
Layout options - Shows the pages of the document in the following formats: Single Page, Two Pages, and Thumb View.
Fit options - When the layout is set to Single Page, you can fit the current page of the document by width, or page height.
Rotate 90 degrees - When the layout is set to Single Page, you can rotate the page in 90-degree intervals.
Zoom - Increase or decrease the magnification level of the document from 0% to 500%.
Fullscreen - This option expands the Preview window to take up the entire screen. Select this option again or hit Escape to shrink the Preview back to
its normal size.
Page navigation - Instead of using the scrollbar of the preview to navigate your document, you can use this feature to enter a page number directly, or use the arrows to move one page at a time.
Selection tools - These tools allow you to select text in the document or preview pane.
Search bar - Gives you the ability to search your document for specific words. Search results will be displayed in the preview, and matching search terms will be highlighted throughout the document.
The following formats can be previewed. The previews are rendered into a pdf with standard letter sized pages.
css
csv
doc
docm
docx
dot
dotm
dotx
html
msg
odp
ods
odt
oth
otm
otp
ots
ott
pdf
potm
potx
ppam
ppsm
ppsx
ppt
pptx
rtf
rtx
sgm
sgml
txt
vsd
vsdx
xls
xlsb
xlsm
xlsx
xltm
xltx
xml
Note: Documents with any form of security on them cannot have previews generated.

Images
When previewing an image, the system will show the uploaded image scaled down to fit in the preview pane. However, it will not enlarge images to fit.
When previewing an image that you want to display elsewhere in your workplace, such as a blog, you can right-click the image that is being previewed and select Copy image address. The address of this image will now be saved to your clipboard and you can insert it into the WYSIWYG editor elsewhere in your workplace, using the Insert Image tool.
The maximum resolution of an image file that will display inline is 2880x1999.
ai
bmp
cgm
djv
djvu
eps
gif
ico
ief
jp2
jpe
jpeg
jpg
pbm
pct
pgm
pic
pict
png
pnm
pnt
pntg
ppm
psd
qti
qtif
ras
rgb
svg
tif
tiff
wbmp
xbm
xpm
xwd
Video
Uploaded videos less than 1Gb in size will be rendered into a 360p and 720p version which can be streamed from your workplace. You can switch between resolutions, adjust volume, jump to specific points in the video and expand to full-screen through the control bar at the bottom of the player.
If a video is greater than 1Gb a preview will not be generated. Instead, a message "Preview not available. Please download." is shown, and a video file icon will be shown in the thumbnail view of the Folder Channel instead.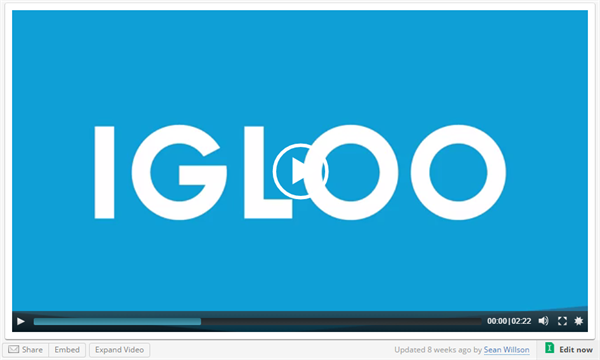 The following video formats can be rendered and streamed from your workplace:
asf
avi
flv
m4v
mkv
mov
movie
mp4
mpe
mpeg
mpg
ogv
qt
wmv
Audio
When previewing an audio file, you have access to standard audio controls such as: play, pause, volume control, and the ability to skip to a part of the audio by selecting the audio track.

The following audio files can be streamed from your workplace:
Embed codes
Code that you can use to embed previews in other articles or pages in your workplace is available for documents, videos, and audio files that have previews.
You can find it by selecting the Embed button found beneath any preview. This will expose the code which can be copied and used in the WYSYWIG editor do display the preview inside another article in your workplace.
Frequently asked questions
Can I embed my videos and documents outside of my workplace?
Yes, you can use the embed codes in other places that support iframe embeds, but the content needs to be publicly available.
Why isn't my document being previewed?
Check if you document has any security policies on it. Any form of protection can prevent previews from being generated.
I have a Microsoft Excel document where I entered a date in the format dd/mm/yyyy, why is it displaying differently in the File Preview?
When formatting a date in Excel, use the date format that matches the style that you want that is not prepended with an asterisk. Date formats that are prepended with an asterisk in Excel will display differently depending on aspects of the system or object displaying the file.
---