Can you prove the value of your digital workplace?
A digital workplace is never "one and done". It grows and adapts as your business does. But how do you know what to improve and change? Measuring success is the first step towards evolving your digital workplace to meet the changing needs of your employees and organization— delivering value every step of the way. 
It's a continuous process— launch, monitor, measure, adapt!
A continuous improvement program 
We believe that analytics and reporting play a small, but vital, role in your digital transformation process. Through data and visualization, analytics and reporting can provide insights into the health of your digital workplace—how are employees using and adopting it? Many organizations struggle with how to use this information to improve, adapt, and evolve. To pull meaningful insights from your analytics and reporting, you must first have a clear understanding of:
What you want to measure 
When you will measure it
Why you are measuring it
A dedicated program to measure success 
Igloo recently launched the Insights Program to help you gather the information you need to identify your next steps for continuous improvement. With access to monthly benchmark reports and a library of custom reports, your Digital Workplace Team can use the program to measure the success of your digital workplace, quickly and easily. 
The Insights Program is ideal for organizations that: 
Don't have a dedicated data analyst on staff
Are looking for help with identifying areas for improvement 
Have more questions than answers regarding analytics 
Want benchmarks to compare the health of their digital workplace to others
A repeatable success framework
To help you build a repeatable "success framework" for your digital workplace, we've published the Measuring Success Handbook. Going beyond reporting, analytics, and key performance indicators (KPIs),  the Handbook helps you create a continuous improvement program. Our recommended approach starts with creating a KPI Chart. This becomes the foundation of your measurement framework, ensuring alignment between your goals, objectives, and KPIs.  
Sample KPI Chart: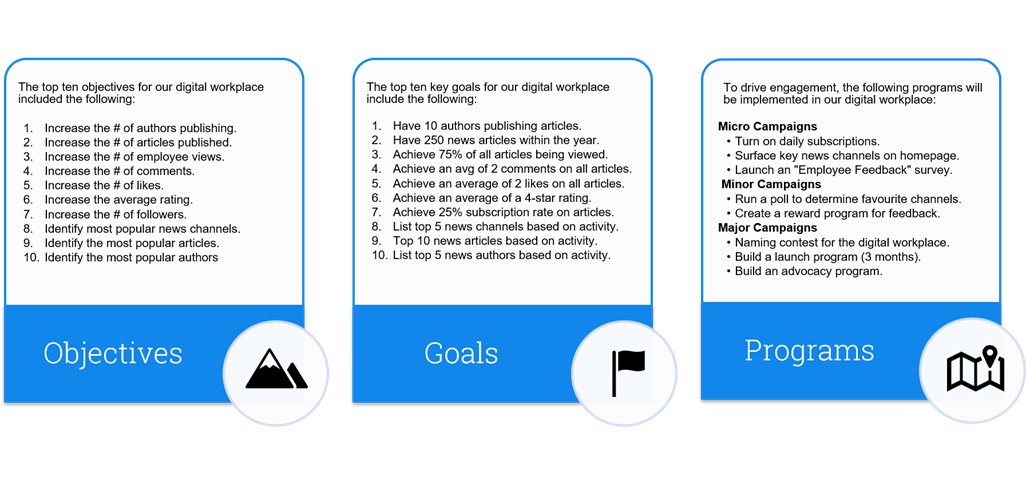 Facilitating the decision-making process 
A continuous improvement plan requires a team in charge of making decisions to provide a clear, strategic approach to the growth of your digital workplace. That's where governance planning comes into play. With a dedicated Governance team, you'll be able to prioritize projects, plan for future development, and set a direction/vision for your digital workplace. Think about: 
The levels of corporate governance and how they impact success: strategic, operational, and tactical
The four governance models you can follow and the model you use will impact your goals and objectives: centralized, decentralized, collaborative, hybrid
Need help getting started? 
Every organization and every digital workplace is unique and that means your definition of success is too. Here are three simple questions to help you get started: 
What does success look like for our digital workplace? 

Think about your overall digital workplace plan, goals, and objectives and the key business challenges you're trying to solve

How are we going to measure success? 

Think about how you define success and what measurements will help you identify that success 

How are we going to be successful?  

Think about the actions you need to take to support your goals and objectives, what campaigns and programs will support your efforts